The Island Health Provider Profile is an interactive web-based tool for providers at Island Health. The goal of the Provider Profile is to allow individual providers to leverage the data repositories in the Enterprise Data Warehouse to support them in quality improvement and to inform their practice.
The Provider Profile is intended to present providers with information about their patient population, and measures related to the dimensions of quality. Specific measures relevant to each department and/or division are being identified in collaboration with medical staff.
The roll out plan leverages the medical staff structure to enable engagement, develop appropriate measures, orientation to the tool, and future improvement activities The Provider Profile will be rolled out to provider groups in iterative, staged releases.
Individual measures are provided as a focus for quality improvement and professional development.
Please expand the headings below to learn more about the Scope, Features, Rollout and Measures.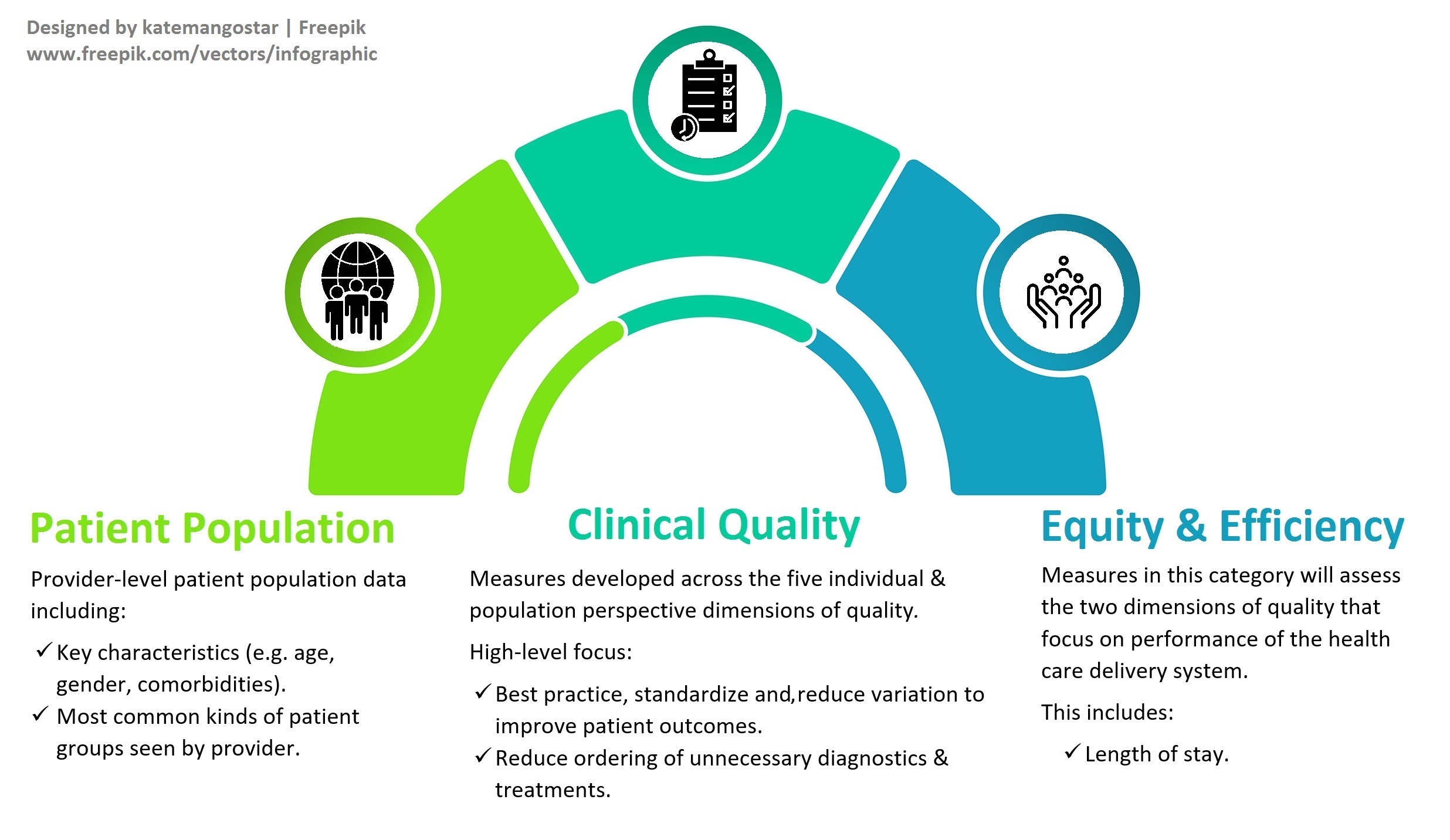 The Provider Profile is available only to individuals in divisions/groups who have been orientated to the tool.
To view the Provider Profile:
1. Login to the Report PORTAL using your Island Health Login: https://reports.viha.ca/
2. Navigate to 'Quality Improvement'

3. View Provider Profile located under the heading 'Medical Quality'.
Your Island Health Network login is required to access the site.
In Scope

Only providers will be able to see individual provider level results, and each provider will only be able to see their own individual level results.

The Provider Profile presents providers with information about their patient population, and measures related to the dimensions of quality. 

These evidence based clinical measures will be developed with medical staff and departments, in alignment with the BC Health Quality Matrix.

 

Out of Scope

Monitoring of individual provider measures by anyone other than the individual providers themselves.

Analysis and/or review of provider variation for the purposes of performance measurement, quality assurance, etc.

 

The Provider Profile provides Patient Population, Clinical Quality, and Equity & Efficiency data at the provider level.

Patient Population

 A profile of each provider's patient population, summarizing key patient characteristics (such as age, gender and comorbidities) and providing an overview of the most common kinds of patient groups seen by the provider.

Clinical Quality

Clinical quality measures will be developed for each of the five dimensions of quality focused on the patient/client experience from both an individual as well as a population perspective - Safety, Appropriateness, Accessibility, Effectiveness, and Acceptability. The majority of measures will be selected through an iterative consultation process with medical staff and departments, though select measures will be driven by corporate priorities. At a high level, these measures will focus on:

Best practice, to help standardize clinical practice and reduce variation to improve patient outcomes and safety

Potentially unnecessary care, to help reduce ordering of unnecessary diagnostic tests and treatments through integration with programs such as

Choosing Wisely Canada

A small number of the measures will form a core set that can be compared across all providers; for example, measures of length of stay and hospital harm. The bulk, however, will be specific to care provided only by a given department (e.g., ED or OBGYN) or be relevant to a subset of departments treating specific population groups (e.g., CHF).

Equity & Efficiency

Measures to assess the two dimensions of quality, equity and efficiency, focused on the performance of the system in which health care services are delivered, such as length of stay.

Details of the information currently presented in the Provider Profile can be found here under Provider Profile (https://apps.viha.ca/edw/DocumentIndex.aspx). *Island Health Login is required.*

Development of measures and roll-out is led through departments and divisions. The initial focus is on in-patient measures. Core measures currently under development account for 63% of all Discharge Abstract Database (DAD) abstracts.

Progress of the rollout is reported through the Health Authority Medical Quality Committee (HAMQC).

Through the Provider Profile tool, providers will be able to view information about their patient population, and measures related to the dimensions of quality. Comparisons will be made to the mean for their defined provider group.

Measures are provided as a focus for quality improvement and professional development. As such they are:

Evidence based

Related to dimensions of quality

Chosen by physicians

Relevant to clinical care

The Provider Profile measures are suitable for both individual and group level improvements. Groups may wish to identify quality improvement initiatives that multiple division/group members may participate in, with a view to reducing the group mean. Individuals may wish to set personal goals for their own individual measures using an audit and feedback approach.

Both group and individual approaches to quality improvement using the Provider Profile meet requirements for CFPC (Mainpro+) and RCPSC (MAINPORT) professional development credits.

For individual professional development, the use of an audit and feedback methodology will help guide you. Updates to the Provider profile support personal evaluation of the impact of the changes you make to your practice. Reporting tools are available through UBC and RCPSC to guide your documentation for professional development credits.

Family Practice:

Specialist Practice:

For training in quality improvement methodology through a team-based approach, visit the Physician Quality Improvement page to learn more about fundamental quality improvement and patient safety training and project-level QI training, or email PQI@islandhealth.ca

Interested in learning about QI at your own pace from a world-class institution? PQI offers free access for medical staff to the Institute for Healthcare Improvement (IHI) Open School.

Not sure where to start? We recommend Quality Improvement 101-103! Please contact pqi@islandhealth.ca for a complimentary registration code. Sessional payment is also available for fully licensed SP and FP.
*Island Health login is Required*

The Provider Profile is located on the 'Quality Improvement' section of the Report PORTAL, under the heading 'Medical Quality'.