Medical staff at Island Health are encouraged to participate in quality improvement, engagement and research activities both in partnership with the Health Authority and through their Medical Staff Associations, Divisions of Family Practice and Doctors of BC.
To assist in navigating these channels, please expand on the sections below to see some external funding opportunities facilitated through Island Health.
It is expected that those requesting funding regardless of the source are medical staff members in good standing within their divisions.
The funding featured on this page is not an exhaustive list of available funding opportunities. Medical Staff are encouraged to use the resources available to them and pursue opportunities for improvement in their areas.
Funding is by the Joint Collaborative Committees (JCCs)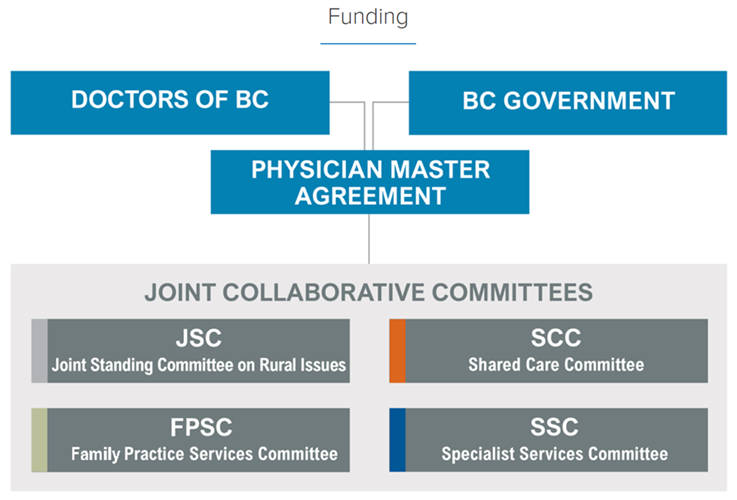 The Joint Collaborative Committees represent a partnership of the Government of BC and Doctors of BC as outlined in the Physician Master Agreement. Funding flows through four JCCs: Specialist Services Committee (SSC), Shared Care Committee (SCC), Family Practice Services Committee (FPSC) and the Joint Standing Committee on Rural Issues.
Specialist Services Committee Initiatives

Physician Quality Improvement (PQI)

Comprehensive 12-month cohort training program (Level 3) for quality improvement education.
Dedicated coordinators, physician advisors and physician mentors.
Intake for cohorts happens once per year with fixed-submission deadlines through a competitive application process. Applications require an Executive Sponsor that oversees the area of proposed project focus.
Application decision is at the SSC-HA level.
Additional PQI Fundamentals one-day and two-day workshops available (Level 2).
Institute for Healthcare Improvement 4 hr online module (self directed

Participation is available to fully-licensed GPs, SPs, midwives and nurse practitioners with sessional funding provided to GPs and SPs.

Alumni network to continue QI work and collaborate with peers.

Click here to learn more about PQI at Island Health or contact PQI@islandhealth.ca.
Click here for an overview on the Physician Quality Improvement Initiative from the SSC Website.

---

Facility Engagement Initiative (FEI)

Supports engagement amongst and between physicians and Island Health administrative leadership.
Funding is to improve working environments and ultimately patient care.
Requirements for funding approval, project guidelines, and funding amounts are determined and decided by local MSAs.
Project selection decisions are at the MSA level and not the health authority.

Please contact your local MSA to find out more, or click here for the Facility Engagement MSA Websites.

Click here for an overview on Facility Engagement Initiative.

---

Sauder Physician Leadership Program

This 10 day program is designed for physicians who are taking on leadership roles in their health authority, and who wish to augment their medical background with applied, forward-thinking management skills. It is expected that participants will have completed some introductory management and leadership training (i.e. PMI etc.) prior to enrolling in this program.

Click here for an overview of application processes and for program details.  Contact the Medical Staff Communications, Education & Development team at MedStaffDevelopment@islandhealth.ca for questions and to submit your applications.

Shared Care Partners for Patients

Goal is to provide coordinated healthcare experience for all British Columbians by building the relationship between GPs and Specialists.
Focus is on coordinating complex care for older adults, partners in care/transitions in care, polypharmacy risk reduction and spread networks including adults MHSU, chronic pain, maternity and palliative care.
Project selection decisions are at the Shared-Care level.
Patient-centered quality improvement.
Contact funding liaison, David Hebb, to develop an expression of interest for funding.

Click here to learn more about Shared Care Project Funding Guidelines.

Joint Standing Committee on Rural Issues

Rural Education Action Plan

Funding to support educational opportunities, CME, Cultural Safety Training, Rural skills upgrade, Advanced skills and training, Rural leadership development project, Undergrad teaching stipend.
Partnering with UBC.

Click here to learn more about the Rural Education Action Plan. Contact REAP@familymed.ubc.ca for inquiries.

Physicians practicing in a rural community may be eligible for recruitment and retention incentives, emergency enhancement funding, isolation travel assistance, and other benefits.
Island Health completes a Physician Count to determine the number and type of physicians practicing on Vancouver Island. The community, physician and specialist details are used to determine eligibility for these programs.
Liaison supports are available to assist in navigating the numerous rural incentive programs.

For more information on the rural incentive programs please visit the Rural Program page and direct inquires to Medical Staff Communications, Education and Development at MedStaffCommunications@islandhealth.ca.

Rural Continuing Medical Education Community Program 

Funding to support community CME, innovative CME activity through SPIFI Initiative, addressing needs of local physicians and their teams for collective learning, enabling activities that address the health care service needs of the community.

For more information, please visit RCME page and direct inquiries to RCME Liaison, Rural CME Community Program at MedStaffDevelopment@islandhealth.ca

 

 

Family Practice Services Committee

The Practice Support Program is a quality improvement-focused initiative that provides a suite of evidence-based educational services and in-practice supports to improve patient care and physician experience.
As an initiative of the Family Practice Services Committee, PSP supports doctors to work towards an integrated system of care via the patient medical home and primary care home model.
Training modules currently offered include: advanced access/office efficiency, child and youth mental health, end-of-life, groups medical visits, adult mental health, COPD, musculoskeletal, and pain management.

FOR MORE INFORMATION ON THE PSP TRAINING MODULES, CONTACT:
Phone: 250-519-5149
Fax: 250-519-5159
Email: rsp@islandhealth.ca

To find out more about the Family Practice Services Committee (FPSC) initiatives, please visit: https://fpscbc.ca/ 

Co-Funded Initiatives

HSR funding is intended to facilitate physician engagement and collaboration in the redesign and/or quality improvement of health services provided by Island Health. The goal of HSR funding is to enable and ensure that physicians have the opportunity to participate in planning, decision making and implementation of new or revised health services in a manner that contributes to alignment across the health system. 

Intake is ongoing throughout the year, and funding decisions are made quarterly. New processes include a virtual intake meeting, required in advance of completing the application form in order to assess project eligibility and readiness. For additional details and to set up a brief virtual meeting, contact Deborah.Bartley@IslandHealth.ca. 
---
Island Health Research and Capacity Department
Funding sources through Island Health Research and Capacity Department are varied and are based on internal and external available grant opportunities.
The department offers:
Support for quality improvement projects and research for clinical trials, publications.
Study design support to meet privacy and ethics requirements.
Dedicated research facilitator. Contact Amanda Leddy if you would like to discuss next steps.
Click here for information on how to get started.
Island Health is dedicated to empowering medical staff to improve quality of care by identifying ways to improve care across departments.
To learn more about quality improvement at Island Health, please visit Working for Change to find up to date information on how to join quality initiatives, supports for change and Medical Quality initiatives currently underway.
We invite you to celebrate medical staff achievements in quality as work continues to improve patient care through dedicated team-based improvement. Please share your stories with the Medical Staff Communications, Education & Development team at MedStaffCommunications@islandhealth.ca.
Overview of Joint Collaborative Committee Funding Opportunities.

* Please note that this document is intended to provide a high-level overview of the various funding streams available to physicians and at times may be incomplete or inaccurate due to changes in funding and programs.

For the most up to date information, email the contact in the "Contact Person" column.
If you notice an error in the document, please email info@southislandmsa.ca
.button { display: inline-block; padding: 10px 20px; font-size: 24px; cursor: pointer; text-align: center; text-decoration: none; outline: none; color: #fff; background-color: #3eacb9; border: none; border-radius: 15px; box-shadow: 0 8px #4a4b4d; } .button:hover {background-color: ##3eacb9} .button:active { background-color: ##3eacb9; box-shadow: 0 4px #4a4b4d; transform: translateY(4px); }