Medical staff at Island Health are encouraged to participate in quality improvement, engagement and research activities both in partnership with the Health Authority and through their Medical Staff Associations, Divisions of Family Practice and Doctors of BC.
To assist in navigating these channels, please expand on the sections below to see some external funding opportunities facilitated through Island Health.
It is expected that those requesting funding regardless of the source are medical staff members in good standing within their divisions.
The funding featured on this page is not an exhaustive list of available funding opportunities. Medical Staff are encouraged to use the resources available to them and pursue opportunities for improvement in their areas.
Funding is by the Joint Collaborative Committees (JCCs)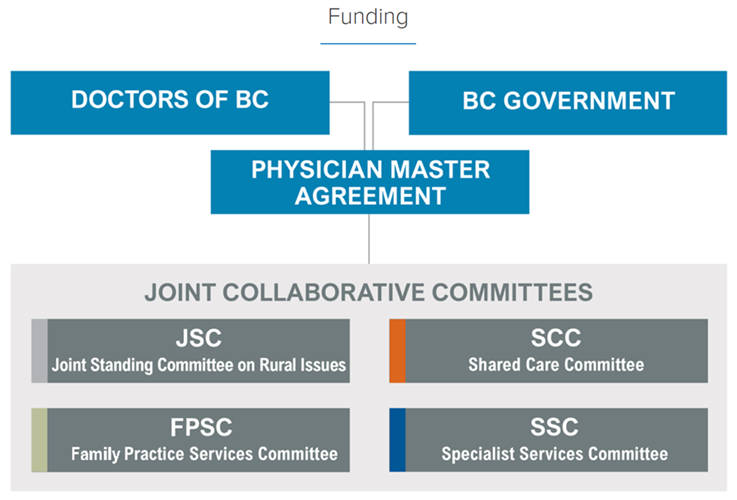 The Joint Collaborative Committees represent a partnership of the Government of BC and Doctors of BC as outlined in the Physician Master Agreement. Funding flows through four JCCs: Specialist Services Committee (SSC), Shared Care Committee (SCC), Family Practice Services Committee (FPSC) and the Joint Standing Committee on Rural Issues.
Specialist Services Committee Initiatives

Joint Standing Committee on Rural Issues

Family Practice Services Committee

Co-Funded Initiatives
---
Island Health Research and Capacity Department
Funding sources through Island Health Research and Capacity Department are varied and are based on internal and external available grant opportunities.
The department offers:
Support for quality improvement projects and research for clinical trials, publications.
Study design support to meet privacy and ethics requirements.
Dedicated research facilitator. Contact Amanda Leddy if you would like to discuss next steps.
Click here for information on how to get started.
Island Health is dedicated to empowering medical staff to improve quality of care by identifying ways to improve care across departments.
To learn more about quality improvement at Island Health, please visit Working for Change to find up to date information on how to join quality initiatives, supports for change and Medical Quality initiatives currently underway.
We invite you to celebrate medical staff achievements in quality as work continues to improve patient care through dedicated team-based improvement. Please share your stories with the Medical Staff Communications & Development team at MedStaffCommunications@islandhealth.ca.
Overview of Joint Collaborative Committee Funding Opportunities.

* Please note that this document is intended to provide a high-level overview of the various funding streams available to physicians and at times may be incomplete or inaccurate due to changes in funding and programs.

For the most up to date information, email the contact in the "Contact Person" column.
If you notice an error in the document, please email info@southislandmsa.ca