Presenters can drive improved quality of care and patient safety by sharing their experiences with adverse outcomes or near misses that contain lessons to be learned about cognitive biases and/or system issues using the structured M&M format.
Common cases that have the potential to occur frequently in your group's practice setting present an opportunity for change and can improve quality of care.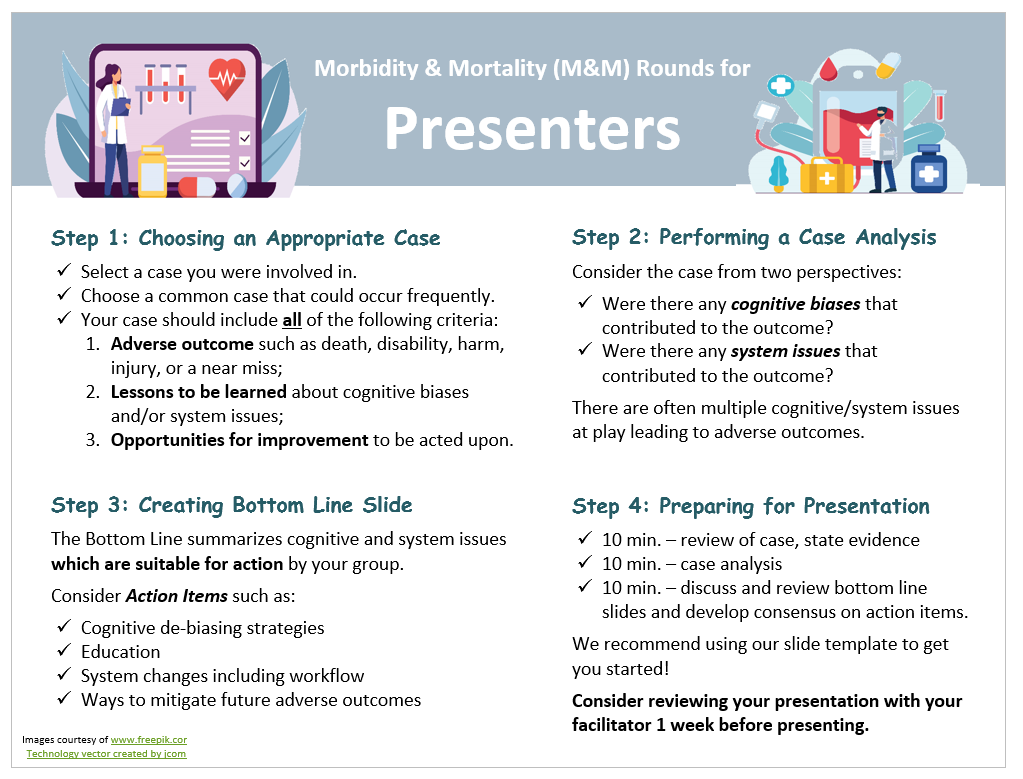 Steps to Presenting M&M Rounds to Your Group
Whether you put your hand up or were invited to present at you groups M&M rounds, follow these steps to get started.
Familiarize yourself with the Model
Review the Presenter Toolkit for detailed instructions on how to present rounds for your clinical group.
Choose an Appropriate Case
The focus of M&M Rounds is to learn from cases to reduce the chance of similar adverse outcomes or near misses from happening in the future.
Your chosen case should be a common case that you were actively involved in, containing all of the following three criteria:
Adverse outcome such as death, disability, harm, injury, or a near miss

(potential harm avoided - for example, a patient given incorrect medication due to mislabeling of syringe - potential for harm but the patient ultimately wasn't affected).

Lessons to be learned about cognitive biases and/or system issues

Opportunities for improvement can be acted upon
There are many places you can look to when trying to identify a case for presentation at M&M rounds. Potential sources include:
Cases which cause you to think about them long after they occurred

Cases which highlight a recurring system issue/frustration

Cases reported as safety and learning events through the patient safety and learning system (PSLS) or patient care quality office (PCQO).
Perform a case analysis
Once you have selected your case, your next step is to complete a proper case analysis reviewing your case from two perspectives:
Were there any

cognitive biases 

that contributed to the outcome?

Were there any

system issues 

which contributed to the outcome?
More details on how to perform a case analysis and how to identify cognitive biases and system issues are available in the Island Health M&M Rounds Toolkit For Presenters.
A framework for Surgical Specialities is available to assist with performing a case analysis for presenters. This framework was developed in consultation with surgeons to help reframe cognitive and system issues as they relate to specific steps within the Pre-OP/Intra-OP/Post-OP continuum. Click on this link to review the Surgical Speciality Case Analysis Tool.
Remember, you can reach out to your Facilitator any time throughout this process for guidance and support!
Create your bottom line slide
Your bottom line slide summarizes the cognitive and system issues identified during your case analysis that are suitable for action by your group.
When drawing lessons from your M&M rounds case, consider action items that can be made. Examples include:
Any cognitive de-biasing strategies

Education regarding evidence, practice guidelines, policies, procedures, use of simulation

Changes to the system including workflow

Ways that the adverse outcome in a similar patient could be mitigated

Please use only your Island Health email to share slides.

Non-Island Health emails do not have the same level of security for privacy protection.
Prepare for your presentation
The majority of your time should be dedicated to sharing the findings of your case analysis. The recommendation is to split your session evenly into thirds:
10 minutes for review of the case and state of evidence on current management

10 minutes for case analysis in terms of cognitive and system issues

10 minutes for discussion, review of bottom lines and consensus on potential action items
Using this model, every M&M case presentation should have a few mandatory slides.
Click here for a template to get you started.
Please remember these rounds are confidential and we need to endeavour to protect the privacy of patients. No patient initials, dates, times, or names of staff involved should appear in your presentation. Rounds should be structured under Section 51 of the BC Evidence Act to promote a safe, open and blame-free environment for learning.
Presenting at M&M Rounds
Now its time to present! We recommend connecting with your Facilitator a week before to review your presentation.
---