All medical staff and multidisciplinary colleagues are eligible for membership of an M&M group and should participate in M&M round regularly. For Medical Staff, participation in M&M Rounds is a valuable way to improve patient quality of care and safety and is included in the Medical Staff Rules as an obligation of privileges.
Medical Staff Rules 2.2.4.4: Departments will be responsible for monitoring the quality of patient care and services provided by their members. Department members will participate in a program of structured quality assurance, including Morbidity and Mortality rounds and case reviews arising from Quality Committee activities or complaints, regarding the care provided to patients by its Members
Multidisciplinary and inter-professional participation is a critical component of successful M&M Rounds. A team-based approach to M&M Rounds offers important insights into understanding the possible cognitive biases or systems issues, but also helps to identify potential solutions.
How can Attendees Contribute to Successful M&M Rounds?
Participate in the discussion. Ideally, all decisions will be taken by consensus and the group will work together to offer feedback the bottom line slide findings and recommendations.

Rounds will begin and end on time. Be courteous and attentive.

Psychological safety principles will apply. M&M Rounds are a blame-free environment where the goal is to identify opportunities for learning and improvement.

Encourage multidisciplinary and inter-professional attendance.
Regular attendance at M&M rounds not only builds trust and allows you to contribute to improvements in care, it also helps to prepare for presenting at M&M Rounds. As a medical staff member of an M&M group, you will be invited to present a case of your choice that you have been involved in.
We recommend you visit the Presenters page to learn more.
What is different about this model compared to other M&M rounds?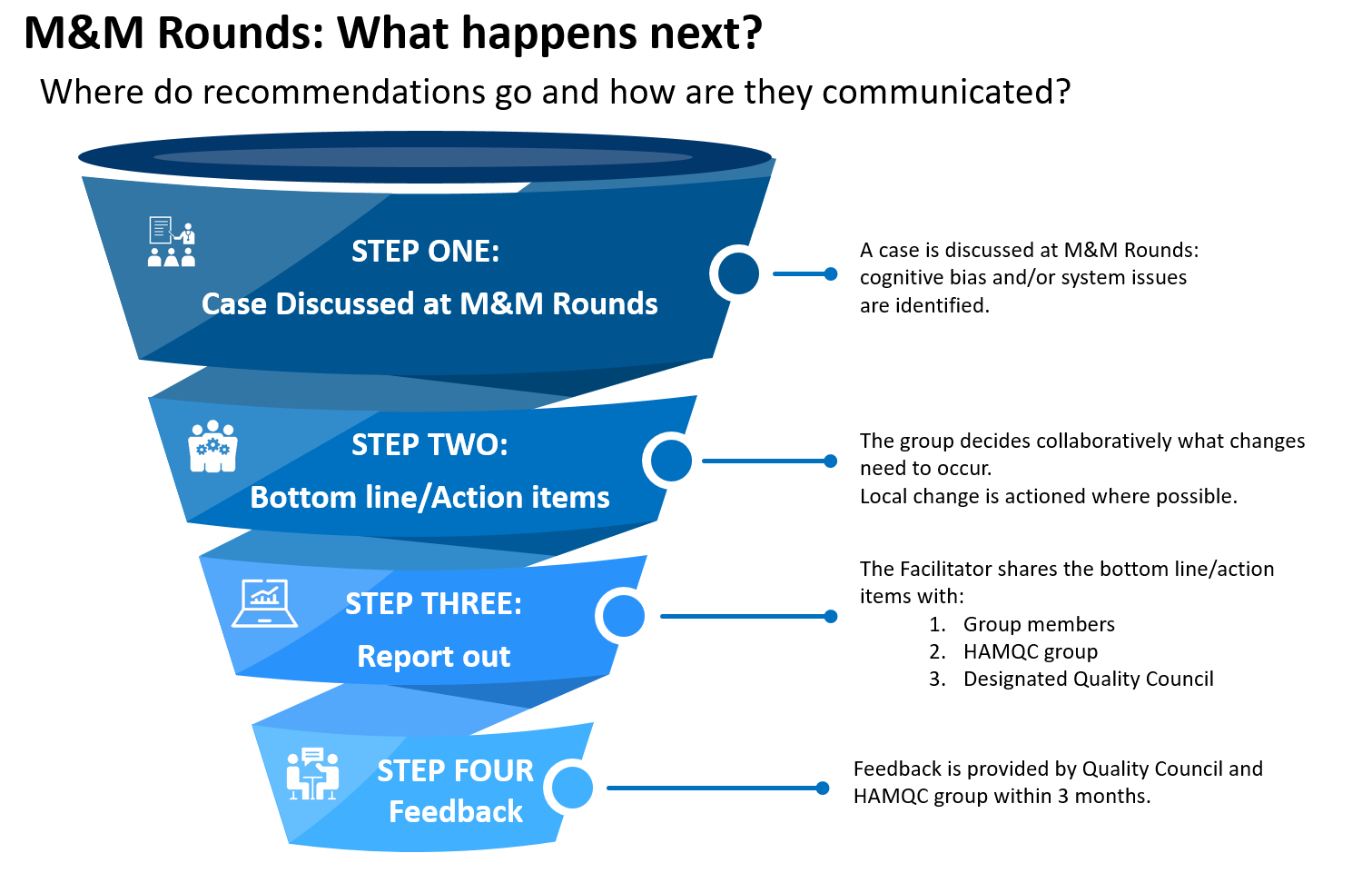 Attendees will discuss the bottom-line slide developed by the presenter to identify cognitive biases or system issues that are suitable for action by your group to determine "What would you like to see happen?".

As an attendee, you will receive a copy of the Bottom Line/Action items from the facilitator. The slide will have been updated after the presentation to capture recommendations and learnings.

Action items discussed, whether they could be actioned locally or require a higher level of system change are shared by the Facilitator with a designated Quality Council for learnings or as a driver for change. Sharing issues and recommendations helps the organization to prioritize and action change, a concern identified locally may be echoed across the organization.

Bottom-line summaries are shared by the Facilitator with the HAMQC M&M Working Group. These will be themed and reported in aggregate to HAMQC to identify common issues across all groups.
What are Cognitive Bias and System Issues?
This standardized format for M&M rounds considers:
Were there any cognitive biases that contributed to the outcome?
Were there any system issues which contributed to the outcome?
There are often multiple cognitive and/or system issues at play leading to adverse outcomes.
It is important for attendees to consider the information that was available and observable at the time of the event.
Cognitive Biases 
Clinical decision-making is an extremely complex process, and healthcare professionals often develop adaptive mechanisms because we are faced with repeated similar experiences in a busy clinical environment. It has been proposed that one of the best ways we can combat these decision-making errors is to first explicitly be made aware of these biases. We can then develop cognitive forcing strategies to prevent them in the future.
As human beings we are all subject to these regardless of our level of training or expertise. Participating in an open and honest discussion around these biases will help encourage a blame-free forum where lessons can be learned.
Appendix B in the Island Health M&M Overview Guide offers examples of common cognitive biases that may have contributed to an adverse outcome or near miss and could present future learning opportunities.
System Issues
System-level issues often relate to problem or problems beyond just the individual clinician or team, and are part of how your clinical setting operates.
There are many ways to categorize system issues. Here is an example of one:
Patient factors

including communication barriers

Skill-set errors

including errors in interpretation of diagnostic tests

Task-based errors

including missed routine behaviours

Personal impairment

including fatigue or emotional distress

Teamwork failure

including breakdown in communication between team members or across specialties

Local environmental contributors

including appropriate staffing

Hospital-wide contributors

including access to speciality treatments

Hospital administration contributor

including policies and guidelines

External contributors

including provincial regulations and priorities
The Island Health M&M Overview Guide goes into depth about both cognitive biases and system issues if you would like to learn more.
Psychological Safety
Successful M&M Rounds are dependent on discussion and identification of recommendations and opportunities for improvement requiring those in attendance, presenting, and facilitating rounds to engage respectfully. M&M Rounds are blame-free and it is critical that all participants be respectful and mindful of psychological safety.
Building trust generally takes time and relationship. However, there are some things we might try, that are known to help. One is the setting of 'ground agreements', where we make it clear from the outset how it is we are asking people to be with one another. Some suggestions:
Speak and listen with respect

Speak and listen from the heart

Take the time you need to say what you need to say, while maintaining mindfulness of the need for others to have time to speak

Honour privacy

Take care of yourself
Helping people walk away feeling engaged is just as important towards building that ongoing sense of psychological safety.
Section 51 of the BC Evidence Act
Where necessary, discussion and reports leading are protected under Section 51 of the Evidence Act. To ensure protection under Section 51, the purpose of the M&M Rounds must be for learning and improvement within hospital, mental health facility, or ambulance during transfer, and must be conducted under an approved council or committee.
Opinion is protected.
Fact is not protected.
Section 51 may be used to carry out activities for the purpose of studying, investigating or evaluating the provision of health care with a view to evaluating, controlling and reporting on clinical practice in a hospital or during transportation to and from that hospital in order to continually maintain and improve the safety and quality of patient care.
The Facilitator for rounds will share the completed bottom line slide with the chosen Quality Council and with the HAMQC M&M Working Group to ensure Section 51 protection.
CME Credits
Attending M&M Rounds can be claimed as a CME Activity.
Royal College of Physicians and Surgeons of Canada:

MOC Section 1 credits for group learning (not accredited)

MOC Section 3 credits for improvement activities

College of Family Physicians of Canada:



---