Hospital Location & Contact Details: 
1952 Bay St 
Victoria, B.C. 
V8R 1J8
250-370-8000
1-877-370-8699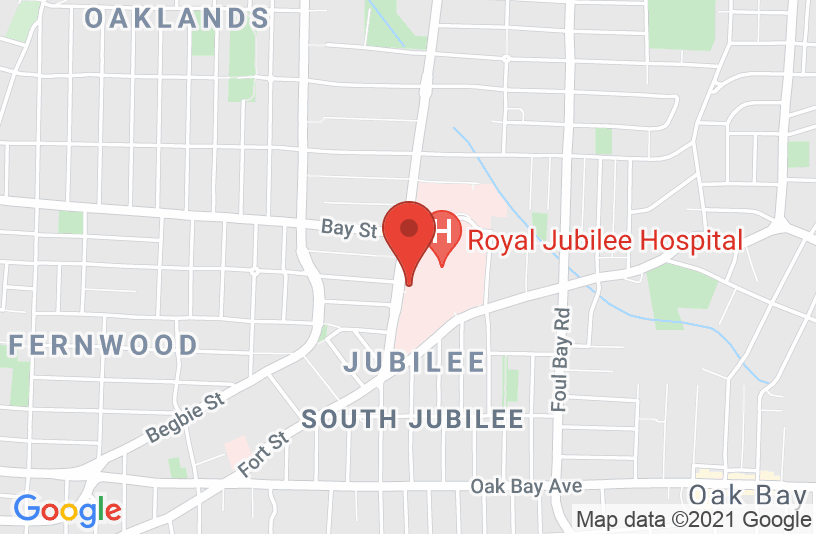 Click here for larger map
Parking
Rates
Street Meters:
$0.25 for 10 minutes
Emergency/Main Entrance:
$1.00 for the first 30 minutes

$1.50 for each additional hour
Surface Lots Parking Pay Stations:
$1.50 for each hour

$26.75 for a weekly permit
Accepts coins, or credit card

No change is provided from pay stations
Parkade:
$2.25 for the first 1 hour

$1.25 for each additional hour

$16.00 maximum daily rate
Accepts cash or credit card

Debit payments available from 07:00 to 21:00 at booth only.

Weekly permits not for use in Parkade

Parkade clearance height is 6'8"
Vancouver Island Cancer Center:
$1.50 for each hour
Special Permits
Renal Dialysis Permits Available

Hardship Permits Available
For more parking information visit the Island Health Parking Services webpage.
Bus Route/Transit:
BC Transit: take the #8, #10, #11 (Fort Street side) or #14
Preparing for Your Visit
Visitors and Caregivers:
Learn about the History of RJH and the merging of the French Hospital with RJH in 1890.
Spiritual Care
This site has an All Nations Healing Room
Any Other Amenities:
Amenity hours of service are subject to change.
Subway
Monday to Friday 6:30 a.m. - 11:00 p.m.
Saturday and Sunday 9:00 a.m. - 11:00 p.m.
Tim Horton's
Daily 6:30 a.m. - 5:00 p.m.
Weekends and Stat Holidays 6:30 a.m. - 1:30 p.m.
Good Earth
Monday to Friday 6:30 a.m. - 8:00 p.m.
Weekends 8:00 a.m. - 8:00 p.m.
TeaLC Café
Monday to Friday 7:30 a.m. - 3:30 p.m.
(closed holidays)
Computers with internet access:
The Patient Care Centre at the Royal Jubilee Hospital has computers with internet access for the convenience of family members to look up health information or communicate with family and friends.
Public WIFI access:
Free WiFi is available for patients and visitors at the Royal Jubilee Hospital. Select the wireless network "IslandHealthGuestWiFi" from your wireless device and follow the instructions to connect.
Stay Connected:
View our recent photo stream on Flickr