Posed on: November 17, 2023
The Mental Health Act (MHA) Resource Team is on the road supporting physicians, leaders, nursing staff and others at designated facilities to adjust to the new MHA Forms 4.1 & 4.2.  ​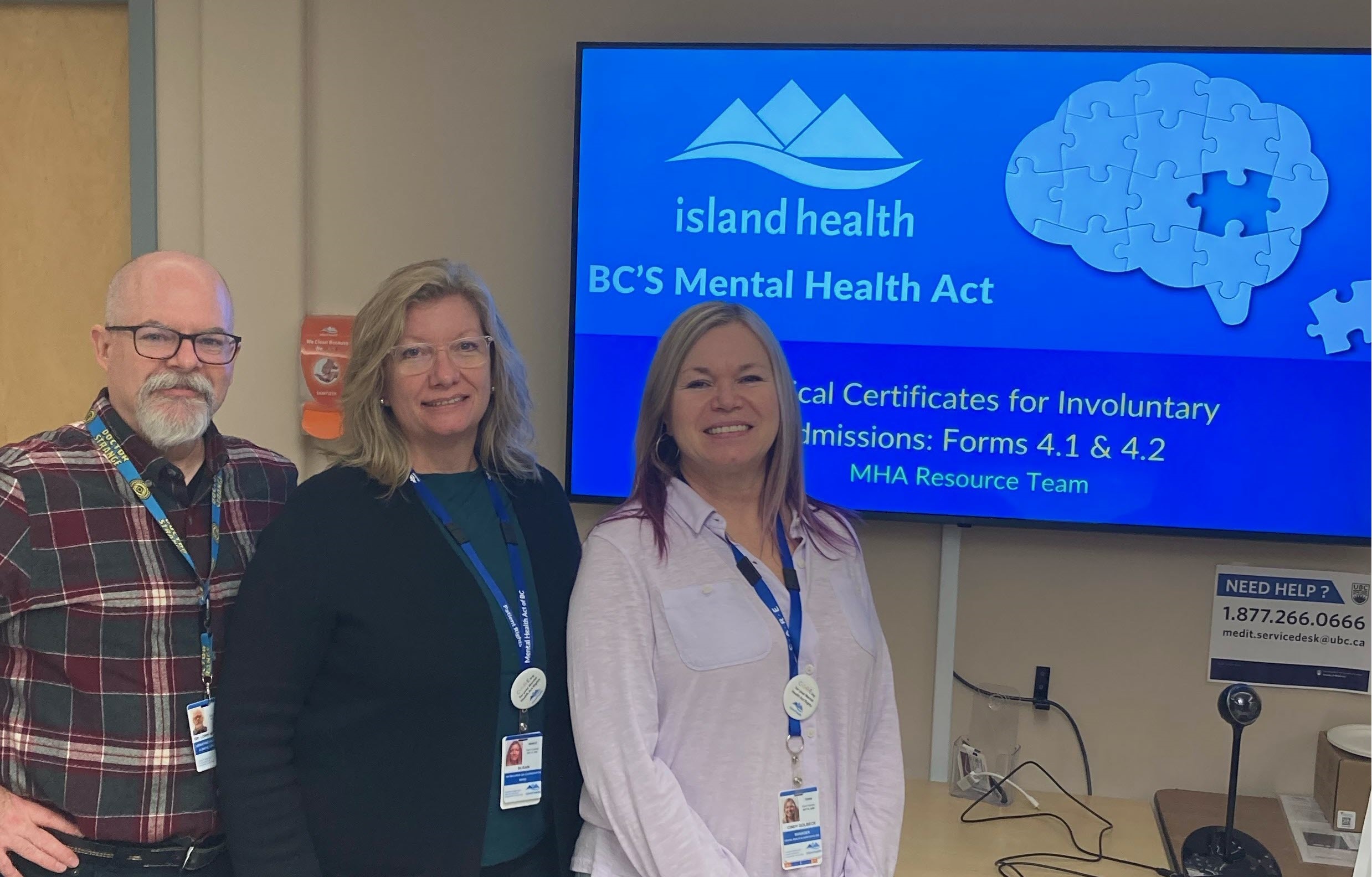 The new MHA Forms 4.1 & 4.2 will be activated in Island Health designated facilities through November to January. 
The designated facilities are:
West Coast General Hospital, Pt. McNeill Hospital, Campbell River General, Comox Valley Hospital, Nanaimo Regional General Hospital, Lady Minto Hospital, Royal Jubilee Hospital, Victoria General Hospital, Seven Oaks Mental Health Centre, Queen Alexandra Centre – Jack Ledger House, Cowichan District Hospital, Cowichan Lodge.

The MHA Resource Team has created a variety of support opportunities for the Forms 4.1 & 4.2 implementation.  These include:
Medical staff educational engagement webinar sessions – find the session that works for you through the Medical Affairs Calendar of Events. 

Medical Staff MHA resources are available through the Medical Affairs Mental Health Act webpage.

On site support includes:

Meetings with site and unit leadership and educators

Emergency Department and Psychiatry Unit in-the-moment learning & support

Lunch & Movie – bring your lunch & watch the 14 minute form completion video and have your questions answered by an MHA Resource Team Member

Unit rounds – visiting staff in the units providing learning & support opportunities in-the-moment as available
Would you like to prepare yourself for this required implementation?  You can view the Form 4.1 & 4.2 Completion Video and access the MHA Director/Delegate Tool through the Mental Health Act intranet site.
The MHA Resource Team is looking forward to seeing you soon at a designated facility near you!
 For questions, please email MHASupport@islandhealth.ca ​