Posted on: November 14, 2023
November 12-18 is National Nurse Practitioners' Week!
Nurse practitioners are registered nurses who have completed a master's-level nurse practitioner education that allows them to work as independent health practitioners. They are highly-skilled professionals with a comprehensive knowledge about a range of patient's needs and treatments, and can assess a patient's health, prescribe medications, order and interpret tests, and make referrals to specialists.
At Island Health, NPs like Allana Hearn have a vital role in providing increased access to primary care services.
Hearn is a Nurse Practitioner at the Health Connections Clinic at the Comox Valley Nursing Centre, which provides team-based primary care for people living with complex medical and/or socio-economic needs.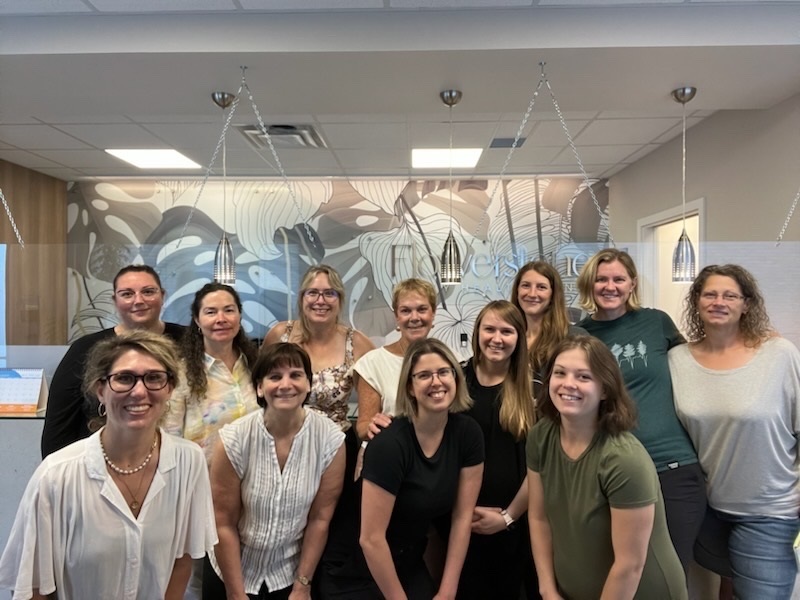 The Flowerstone Family Health Clinic in Qualicum is a Nurse Practitioner led clinic that provides primary care to nearly 4,000 patients. Flowerstone is home to nurse practitioners, a registered nurse, a pharmacist, a social worker, and medical office assistants.
"Team-based care has enhanced care delivery for our staff and patients in many ways," says clinic lead and nurse practitioner, Liz Gilmour. "Members of our team collaborate to discuss recommendations and, at times, have joint visits with patients in a shared care model where patients are encouraged to ask questions. This approach has led to better patient understanding of their health conditions and an improved experience for both patients and providers."
Flowerstone patient, Leona Nelson, refers to the clinic as a place of calm healing that is felt the moment she walks through the doors.
"It is refreshing to be cared for by staff who really listen and show legitimate concern. I am made to feel special – there really isn't enough of that 'special' in the world," she says. "Thank you to the team who make Flowerstone such a blessing to have in our community."
​B.C. Health Minister Adrian Dix says the contributions of nurse practitioners in the health system are invaluable.
 "Our government is working with nurses to transform how health care is delivered in B.C., now and into the future. We greatly appreciate the contributions of our nurse practitioners who are valuable members of B.C.'s team-based primary-care strategy and are the primary-care providers of many patients in the province.
As we celebrate nurse practitioners' week, I extend my heartfelt appreciation to the dedicated nurse practitioners throughout British Columbia. This week represents an opportunity to extend our gratitude and acknowledge the exceptional work of nurse practitioners who continue to make a real difference in the lives many people in B.C."