Posted on: September 20, 2022
Understanding the employee experience is integral to fostering the kind of work environment and culture we all want and deserve. Research shows feeling valued, heard and engaged at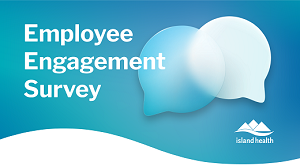 work results in better care and services for the people we serve.   
​I am excited that after a long delay, Island Health will launch an organization-wide employee engagement survey to obtain feedback about your lived work experience. I invite you to make an impact in the workplace and across the organization. Your confidential responses and feedback will help identify what's working well and areas for improvement. When the results are received later this fall, leaders across the organization will be supported (and expected) to drive improvements in the areas where the survey results reveal that work is needed. 
On Monday, September 26th, you will receive an email from EPSI, an outside professional services firm, with a link to access the confidential online survey. You will be invited to answer questions on communication, supervision, organizational culture, job characteristics and leadership. The team has worked hard to ensure the questions will provide us your rich perspectives.
We are committed to continuous improvement that is informed by employee input. This survey will be the first in a series of engagement surveys and pulse checks over the next five years. You can learn more about the survey process and how and when the survey results will be shared by visiting the 2022 Employee Engagement Survey intranet page. 
I encourage you all to take the time required to complete the survey. Thank you for your help in shaping our workplace, and for everything you do daily to support and care for the people we serve, in all communities across the Island. 
~ Kathy MacNeil
    President & CEO