Posted on: September 12, 2022
To recognize Sepsis Awareness Month this September, Island health is once again marking the occasion with the Great Island Health Sepsis Challenge. This short online quiz will test your knowledge of sepsis – a life threatening organ dysfunction caused by the body's response to an infection.
In 2020 we surpassed our goal of 1,000 participants in the Great Island Health Sepsis Challenge in only 21 days – share the quiz and test your knowledge to help us achieve this milestone once again.
This September we invite you to visit the Sepsis Resource Centre on the Island Health Intranet *Island Health login required* and learn more about the tools and resources available to you and how we can work together to improve early recognition and management of sepsis.
After completing your quiz, join us in recognizing World Sepsis Day on September 13 by participating in our Sepsis Photo Challenge. Click on the link to view the photo boards and instructions.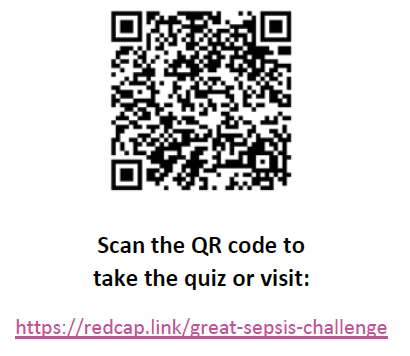 A printable resource is available to promote the survey in your area.
Visit the Sepsis Resources for Awareness page  for more sepsis news this month. *Island Health login required*
We also invite you to visit the Sepsis Resource Centre on the Island Health Intranet  to view the tools, including the new algorithm, antibiotic module, and new and updated order sets. *Island Health login required*