The following has been sent to all medical, clinical and allied health staff at
Lady Minto Hospital on behalf of Erin Price-Lindstrom, Rural Site Director and Christopher Applewhaite, Site Medical Director
May 23, 2023
OneSign® "Tap N Go" deploying at
Lady Minto Hospital
IHealth devices team will soon install OneSign® "Tap N Go" hardware and software on computers and workstations at Lady Minto Hospital.
You can begin using Tap N Go on your computers and workstations on wheels as of May 29.
WHAT YOU NEED TO KNOW ABOUT TAP N GO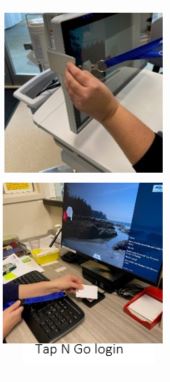 Tap N Go is a convenient way to unlock and lock your computer or workstation using your Proximity Access Card (prox card).
You only need to re-type your password once every 4 hours during the day, saving you time and possible frustration from having to log on to a computer every time you want to use it.
When Tap N Go is installed, you may notice changes on your device and a different login screen. Use your prox card to "tap on" and "tap off". On WoWs, the tap pad is located on the on the left side of the screen, as pictured. Desktop computers have a separate tap pad labelled "Imprivata".
Detailed information is available on the web page: OneSign Tap N Go
WHAT HAPPENS NEXT
If you have problems accessing Tap N Go:
Project support will be available May 29 – June 9, 8 a.m. to 4 p.m. at 1-855-755-7001
After hours, call the Technical Services Desk: #18777 Option 2 or 250-370-8777 Option 2