Posted on: May 17, 2022
May LTC Newsletter has arrived and it is packed with LTC news!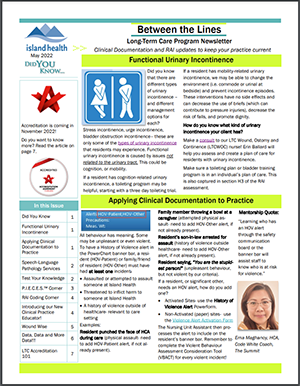 Sneak peak highlights:
Incontinence

There is a new CNE for Wound Ostomy and Continence

How to consult or refer

Assess and treat incontinence associated dermatitis

Communicating risk- Violence Alert Activation

Speech Language Pathologist (SLP) – New LTC SLP and their services

ACCREDITATION is coming – contact site leadership to get involved
Click here for the May Newsletter.
The previous editions of our newsletters are a great resource for anyone working in LTC and are available on our intranet homepage.​
Between the Lines Newsletter (islandhealth.ca)