Posted on: May 27, 2022
Island Health is celebrating Pride 2022 with our theme "Walk our PRIDE". This builds on the momentum of Pride celebrations in the past and acknowledges the voices of Two Spirit, Lesbian, Gay, Bisexual, Transgender, Queer (2LGBTQ+) employees and patients.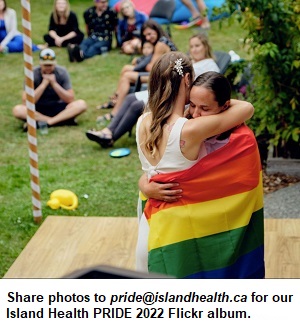 This year, we invite everyone to take steps together and be part of the change to create a more welcoming and inclusive workplace and health care experience free from discrimination, stigma and bias for our 2LGBTQ+ community members.
2LGBTQ+ rights are human rights and at Island Health, we recognize our responsibility to respect and protect these rights. It is clear that any discrimination experienced by 2LGBTQ+ employees and patients pushes us further away from achieving our vision of "Excellent health and care for everyone, everywhere, every time".
We invite everyone to join us on our journey toward positive change and commit to the four steps outlined below throughout Pride. We also encourage you to continue Walking our PRIDE beyond the month of June, as real change requires ongoing commitment and intentional actions.
1st Step: Self-Reflection and Learning: There is no better place to start but from one-self. Embark on the 2LGBTQ+ Learning Pathway.
2nd Step: Initiate team discussions: Change requires a collective effort. Discuss within your teams how we can make our workplace and services more welcoming and inclusive for 2LGBTQ+ people, free from discrimination, stigma and bias. Watch out for an article with some guiding questions this month!
3rd Step: Share your PRIDE celebration moments: What are you doing for Pride month? Show us how you "Walk your Pride" by sharing your photos and stories with pride@islandhealth.ca. We'll share on our Flickr album and social media channels.
4th Step: Share your team's PRIDE commitment: Based on your team discussions, what is your team's PRIDE commitment that you will follow through beyond the month of June? Select one or two and share through pride@islandhealth.ca
Separate articles will feature each step throughout Pride to guide you through these steps.
Pride is an opportunity to acknowledge and promote equity, diversity and inclusion in the workplace, health care system and communities we serve. Let's Walk our PRIDE together at Island Health!