Posted on: December 13, 2022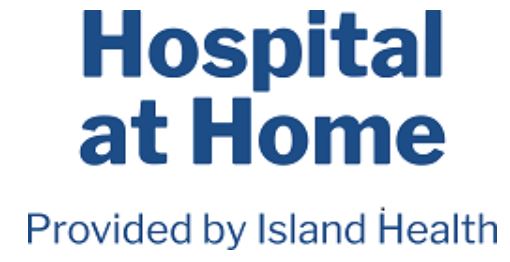 Oracle-CERNER has launched a marketing campaign promoting the succeess of Island Health's Hospital At Home program and the development of a learning health system, after Island Health respresentatives presented the HAH program at a Newfoundland conference in June.
​Island Health's Director of Special Projects​, Dr. Sean Spina, and Robyn Candell, Nurse Informaticist, Clinical Informatics, presented the Island Health Hospital at Home program to the Canada Collaboration Forum in St. John's. The annual event brings together healthcare experts from Canada and beyond, to learn about the latest services and solutions, collaborate with peers, and network with other healthcare professionals.
​"We were fortunate to be interviewed by Oracle-CERNER while on the east coast and as a result, they have just launched this marketing campaign on our HaH program and our development of a Learning Health System," says Spina. "It is truly and honor to share the work of our Island Health HaH program and our AT-HOME research with the global community. We are so very fortunate to have an amazing group of clinicians in HaH delivering care on a daily basis to patients in their homes. Our entire HaH team are truly transforming acute healthcare delivery in Canada in a daily basis.  
"I would also like to acknowledge the incredible support that my AT-HOME research team has received from Island Health Decision Support and our Research & Capacity Building department over the years. We are also grateful for the incredible support that we have received from our Island Health and MOH leadership teams." 
​Oracle Corporation is an integrated technology company based in Austin, Texas. Their collection of cloud technologies, applications, databases, storage and servers have been utilized by more than 420,000 customers across 175 countries.
Last June, Oracle acquired Cerner, a leading provider of digital information systems used within hospitals and health systems to enable medical professionals to deliver better healthcare to individual patients and communities.
"When COVID-19 became a fact of life, healthcare organizations had to adapt quickly in order to best serve their communities," says the Cerner campaign entitled Island Health Succeeds with Hospital At Home. "However, Island Health had already started thinking beyond the hospital walls ahead of the onset of the pandemic with what would become its lauded Hospital at Home program."
See their video below.
"With its mix of stakeholder engagement, constant monitoring, innovative technologies, and – most of all – happy patients and multidisciplinary care teams, Island Health's Hospital at Home could be in line for further recognition as it continues to evolve," states Oracle-Cerner​​​
See more information here.
"Congratulations to all of you!" said Island Health President and CEO Kathy MacNeil.  "We're so proud of this collaborative team which is showing us the way forward in terms of innovating care and leading us into the future. 
"You are all examples of what's working well in health care. Our deepest gratitude to each of you." 
Andre Kushniruk, Director of the School of Health Information Science at the University of Victoria, says he feels honoured to have been involved in this important work. 
"It has been one of the most impactful projects I have been lucky enough to have contributed to over my career in health informatics, and I am looking forward to continuing with the great collaboration."​​​
Victoria Hospitals Foundation CEO Avery Brohman says supporting Hospital at Home has been highly rewarding for community donors. "They are so proud to be advancing this innovative project and Island Health's leadership in enabling this type of care here on Vancouver Island."