Posted on: September 16, 2022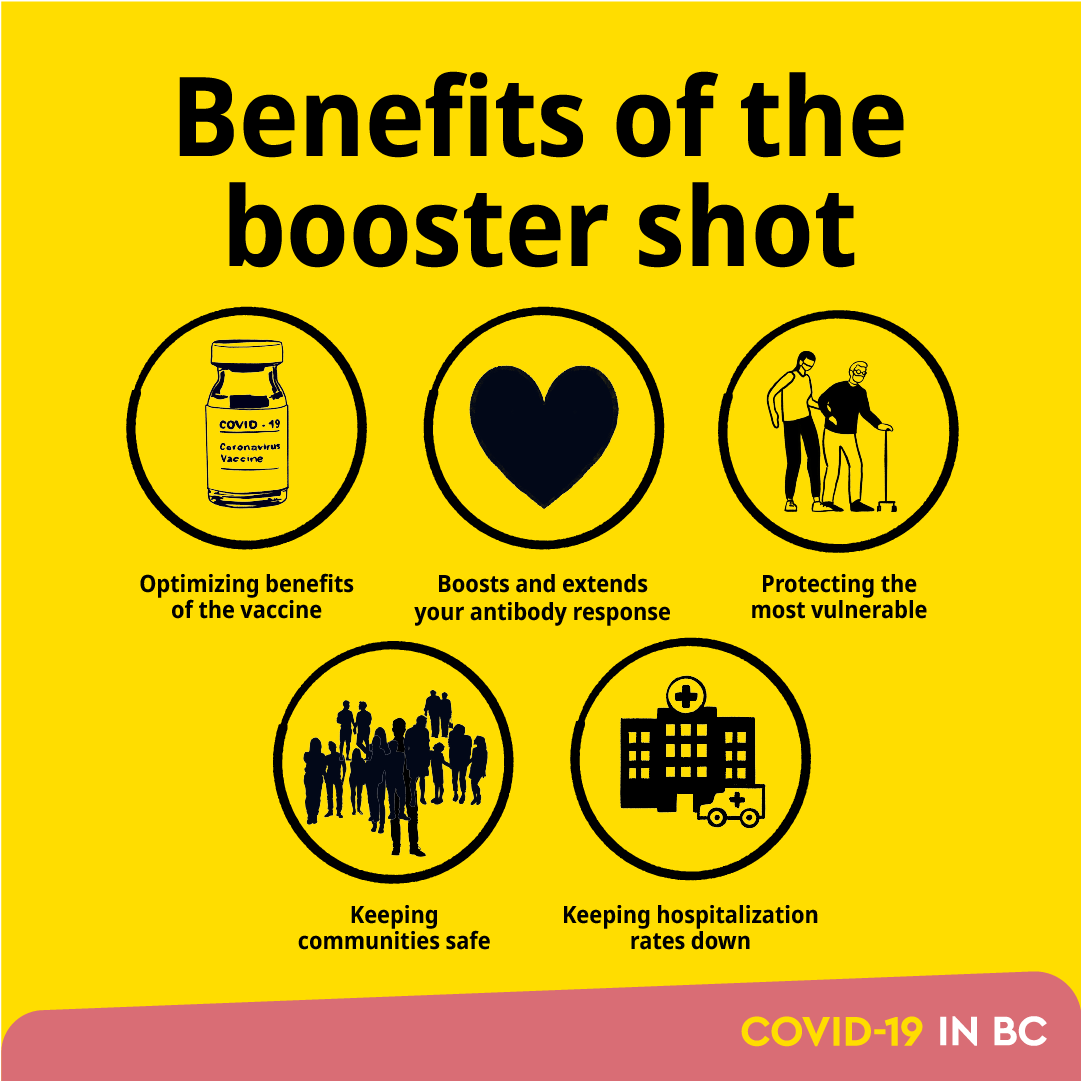 ​Island Health employees are encouraged to stay up-to-date with boosters to protect yourself, those around you and the health care system. Boosters provide the best protection against severe illness as we move into the fall and winter respiratory seasons. People who have been infected with COVID-19, including the Omicron variant, are encouraged to get a booster at least three months after infection.
There are no changes to requirement for health-care workers and other staff working in long-term, acute and community care to be vaccinated with the COVID-19 primary series. Community health-care providers, and staff who work in specific settings, are a priority for a booster. The benefit of self-identifying as a health care worker is you won't have to wait for your age cohort, who may wait longer than 6 months, based on vaccine availability and roll-out. 
If you have already registered through the Get Vaccinated system, you will be automatically invited for a booster dose. Please make sure that your contact information is updated in the system and that you have self-identified as a health care worker. If you don't get an invite by September 16, call 1-833-838-2323.
At this time we are not offering on-site employee clinics, and appointments at local pharmacies are readily available. When you book an appointment in Get Vaccinated, the system will match you to your preferred location based on age and chosen vaccine. Register to book your appointment in the Get Vaccinated system or by calling 1-833-838-2323 (toll-free).
How to self-identify as a health care worker
Starting immediately, all health care workers and health care staff can follow the link below in order to self-identify as a health care worker.
1. Have the following information ready to complete your self-identification in the system:
PHN (Personal Health Number, found on the back of your Driver's License or CareCard)
Date of Birth
Date of a previous COVID-19 vaccine (either Dose 1 or Dose 2)
Target Population Access Code: H3962N!
Note: if you are not yet registered on the Get Vaccinated provincial website, you will be directed to a webpage to do so before you are able to complete this step.
2. Go to the Get Vaccinated provincial website for COVID-19 boosters, target populations here: https://www.getvaccinated.gov.bc.ca/s/d3-target-self-identification
3. After you enter the information requested, you will be redirected to a second page to indicate which specific category you fall into. You will be asked to certify that the information provided is accurate. If any of the information you enter does not match what is on file, you may be redirected to contact the call centre for assistance and to verify your information.
4. Once you complete these steps, you are identified in the system and will be invited when it's your turn to book an appointment. We ask that you wait for your invite rather than phoning the call centre. Drop-ins at clinics or pharmacies are not permitted for booster shots.
5. If you have any trouble with the self-ID process, please call 1-833-838-2323 for support.
This self-identification link and access code are intended only for identified health care workers at this time. By choosing to self-identify through this service, you are acknowledging that you have received this code from your employer.
This link and code are not transferrable. If the code is misused it will be cancelled and the ability to continue with the vaccination through this program may be compromised. Anyone booking an appointment who is not an eligible member of this group will be turned away at the clinic.
Read more on the Update: Fall COVID Booster   
Visit the B.C. Centre for Disease Control website for information related to:
Resources for health professionals
Vaccine safety and effectiveness
B.C.'s plan for vaccine distribution
Vaccine approval process
Overview of COVID-19 in B.C.