Posted on: September 7, 2022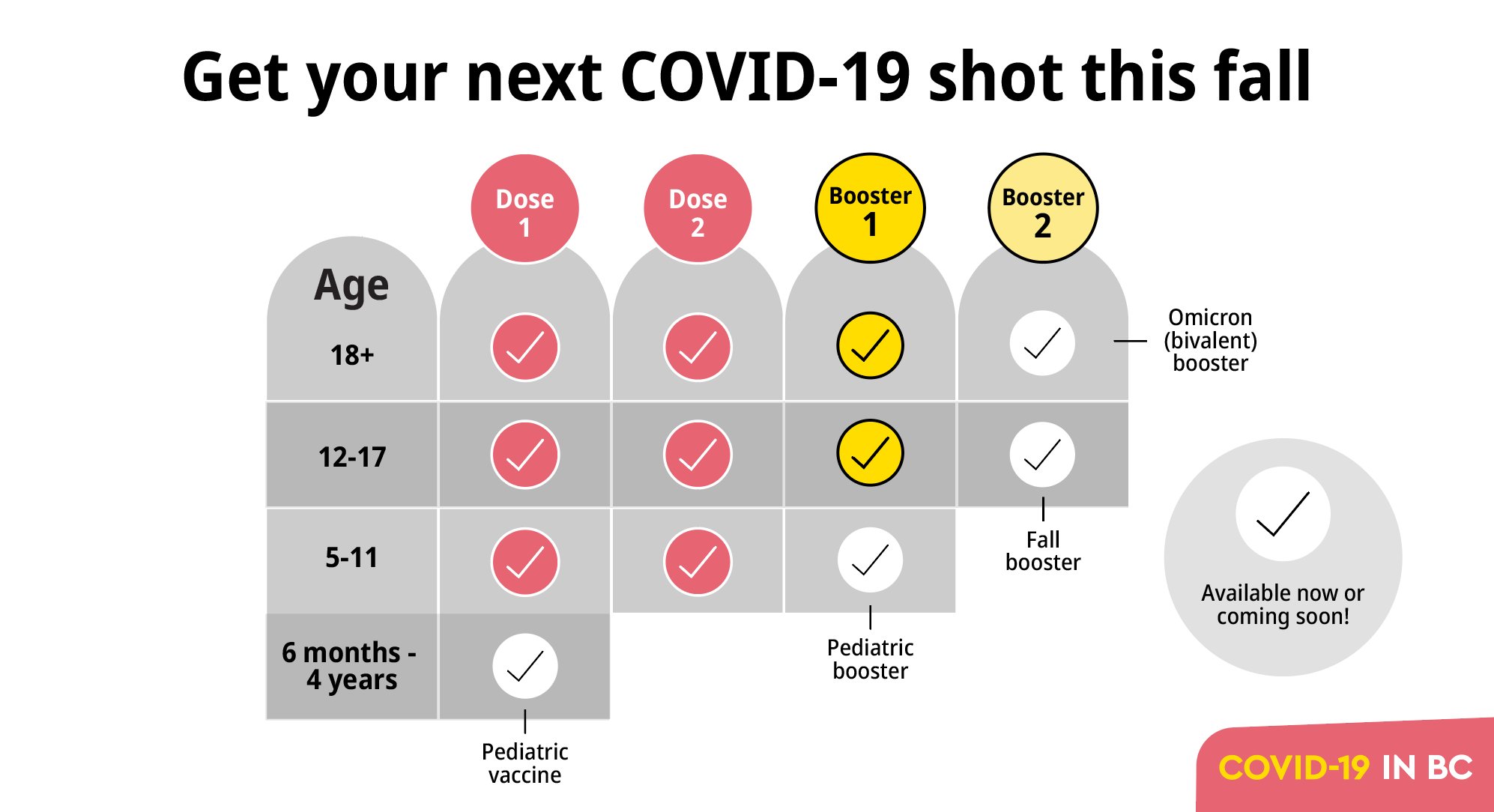 Island Health's public health teams and community pharmacies are preparing to offer COVID-19 booster shots to everyone aged 5 and older this fall. Health care workers are a priority population for the fall vaccine rollout.
The new bivalent vaccine, which offers protection against both the original COVID-19 strain and Omicron subvariants, will be available to adults over 18 as well as youth aged 12 to 17 who are at high risk of severe illness. Current vaccines will continue to be available as well.
Invitations to make booster appointments will begin going out soon. As with the previous doses, the timing of invitations will be based on risk and age, as long as it has been six months since the previous dose. Health care workers will again be prioritized, along with people over the age of 60, Indigenous Peoples of all ages, people who are clinically extremely vulnerable and people who work with high-risk and vulnerable individuals. People should wait three months after a COVID infection to get a booster.
Vaccination will be available at community pharmacies for people aged 12+. Children aged 11 or under will continue to receive their COVID-19 shots at public health clinics.  Island Health will also open short-term mass immunization clinics later this month to provide timely access to the vaccine and help people prepare for respiratory illness season.  
Dr. Bonnie Henry addressed the fall booster campaign at a provincial briefing on Tuesday. "Getting our vaccines and our boosters for ourselves and our children have protected us against severe COVID outcomes requiring hospitalization, which has eased COVID stress on our healthcare system, a stress that continues nonetheless to exist," she said.  
While healthcare workers are not required to get booster shots, Henry urged everyone who is eligible to get the booster to protect themselves and their loved ones from the risk of severe illness.
"Put simply, when we get our vaccines and our boosters, we save lives. It is vital work getting our vaccines and keeping up with our boosters, and our ongoing commitment to this … will continue to make all the difference to each of us in how we face COVID and how we live with COVID."
We'll share more information about the fall campaign and access to vaccine as soon as it is available.
Learn More:
Read the transcript from the September 6th provincial briefing.
View the presentation from the provincial briefing
For more information about COVID-19 booster shots, visit: https://www2.gov.bc.ca/gov/content/covid-19/vaccine/booster
To register with the provincial Get Vaccinated system: https://www2.gov.bc.ca/gov/content/covid-19/vaccine/register
To learn more about COVID-19 vaccines for children, visit: https://www2.gov.bc.ca/gov/content/covid-19/vaccine/children
Questions can be directed to pandemic@islandhealth.ca