Posted on: May 1, 2023
Dr. Jason (Paul) Sawchuck is being recognized in the Leadership Award category for a Celebration of Excellence (COE) Award.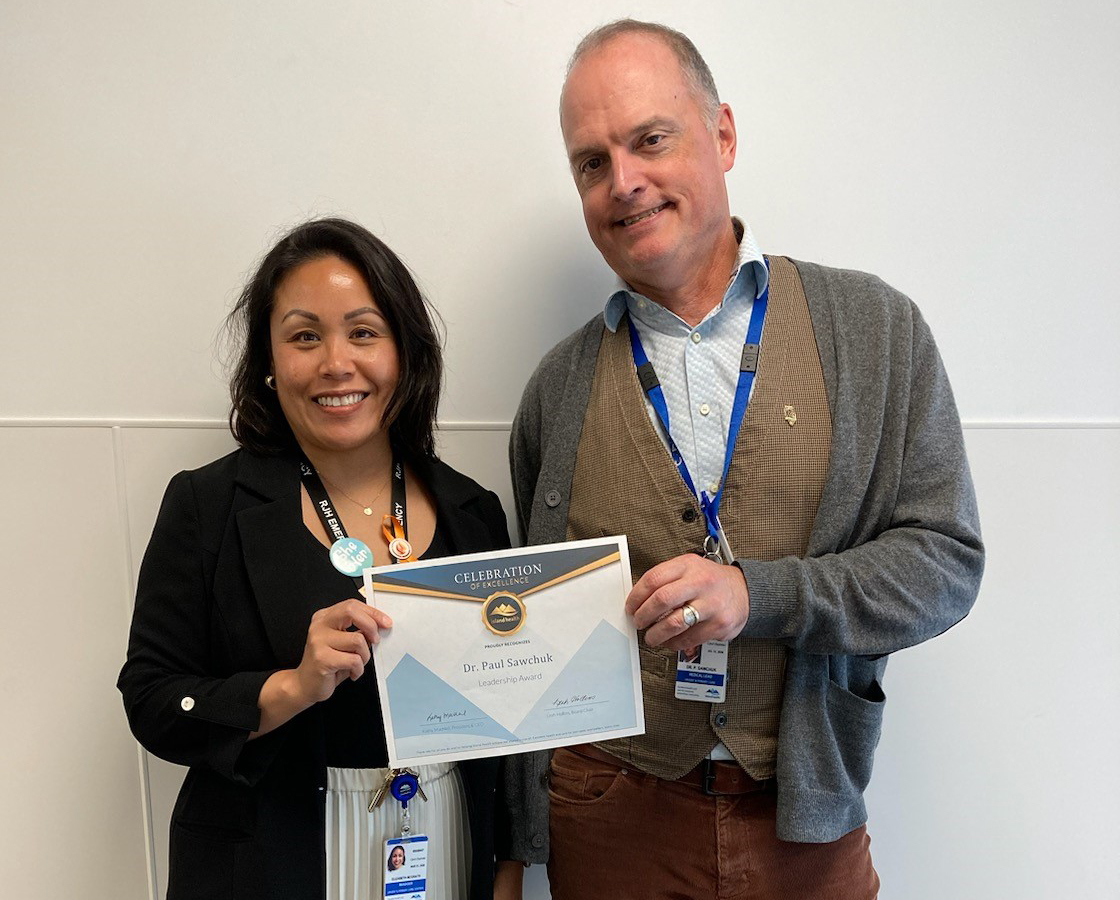 Dr. Paul Sawchuk receives his Celebration of Excellence Award from Elizabeth Mcgrath, Manager Downtown Victoria UPCC. 
​Here is what the nominators, Dr. Josh Greggain and Dr. Sari Cooper, had to say about ​him:
Dr. Paul Sawchuck has been the medical director for the Downtown Victoria UPCC since its inception in July of 2021. He moved from Winnipeg to take on this role. He continues to hold this position and has taken an expanded role as medical co-director of all six UPCC sites in Greater Victoria. 
Not only does he lead the team at UPCC, and now six UPCCs, with excellence, but he is also one of the busiest family physicians in the clinic. He serves his patients tirelessly and provides exceptional care. Paul is always willing to take on an unattached patient in need, and especially those patients who are vulnerable and underserved. 
Paul has expressed that his intent has been to create a positive team culture and an excellent working environment. Many of the other UPCC sites have faced challenges. This one stands out as a high functioning, efficient clinic where people want to work. 
Paul has ensured regular meetings with the full team, as well as with groups of providers, to ensure concerns are heard and met. He has encouraged community agencies to attend team meetings so that the staff and providers are aware of what is available in the community. In these meetings he always asks how the clinic can support the community agency in addition to learning how the agency can support the clinic and its patients. 
I, Dr. Cooper, have worked at this clinic for six months and it functions very well. Patients are being served. Doctors are attaching patients, providing episodic care, and have ongoing access to team members. The team members are happy to be there and work well together as a direct result of the management and leadership skills of Dr. Sawchuck. 
He cares about his patients, works as hard as any other provider in addition to his management role, and will always cover for a colleague when asked, no hesitation. Although there are likely a multitude of factors to DVUPCC's success, I will lay the bulk of the credit at the feet of Dr. Sawchuck and his leadership. 
His character, his commitment, and his ability to care for his patients alongside his team is something to be recognized and celebrated. Health care in BC would be a better place if everyone had the humility, vision, and strength that Dr. Paul Sawchuck exhibits. We are so very pleased to nominate him for this award.
The Leadership Award recognizes an individual who is making an inspirational, sustained and significant difference to Island Health through their leadership. Whether they are in a direct or formal leadership role or not.
______________________________________________
Do you have a colleague who deserves recognition? ​Nominate them​​ for a Celebration of Excellence award.​​​​​​