Posted on: April 26, 2023
FROM COVID TO COLLABORATIVE
Initially in May 2020 an unprecedented global pandemic forced healthcare to become innovative and work harder than ever before dealing with many unknown factors in treating patients who contracted this novel coronavirus. 
Under the guidance of Dr. Tracey Stephenson, Matt Erickson and Katie McTaggart, CERT or the COVID 19 Collaborative Emergency Response Transport Team, was born. The vision was to be able to provide advanced in-transport care and cohort patients in the South Island for standardized care with escalation and access to critical care as needed.
Today, CERT has evolved to operate with:
Critical Care RN's with advanced practice skills.

Respiratory Therapists

Transport Advisor (TA) Physicians - we began with only two; today we have seven TA physicians on the team.

Nine regularized in hospital 7 day/week CERT RN positions allowing for critical care outreach at base sites (RJH, NRGH & CVH) when not on a patient transport.

Over twenty casual team members across the island covering the night shifts on call.

One Clinical Coordinator and one Clinical Nurse Educator.

Four transport drivers to assist in mobilizing our teams and recovering fleet vehicles.
The CERT Team has grown in a short three years from a COVID 19/Surge response project to a fully funded, critical care, high acuity transfer team which provides inter-facility transport when BC Ambulance Critical Care Paramedics (CCP's) are unavailable or unable to perform the transport.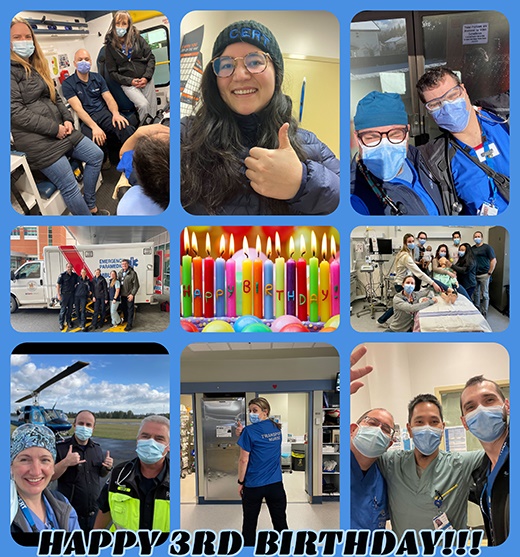 Prior to CERT, sites would have to supply a nurse to send on transport leaving their unit short and occasionally incurring overtime. Hospital-based nurses would have varying degrees of comfort and familiarity with working in a transport environment.
By having a regular RN team that can call the back of the ambulance their workspace and building relationships with our collaborative BC paramedic colleagues, the CERT program continues to grow to meet the needs of getting patients to where they need to go.  
To date CERT has completed 2,152 patient transports with 224 of those in conjunction with our Respiratory Therapy (RT) partners.
WHO WE WORK WITH
CERT works primarily with BC Emergency Health Services (BCEHS) and any available Primary Care Paramedic (PCP) and/or Emergency Medical Responder (EMR) crew. Collaboration occurs continuously between sending and receiving sites, BCEHS Dispatch and CERT RN's. This strong sense of team work is pivotal to provide the exceptional patient care that the CERT Team strives to provide.
CERT collaborates with RT's when required - a special thank you goes out to all the RT's island wide that support patient transfers - the patients appreciate you and your hard work. The CERT team also appreciates your hard work, dedication, expertise and flexibility to provide excellent patient care.
CERT utilizes a TA Physician team for medical oversight whilst out on transport. TA's are all highly educated, experienced, actively practising Physicians from across Island Health sites. There is 24 hour TA coverage even if a CERT RN is not on duty.
CERT drivers transport CERT RN's and their equipment where they need to go either before or after completing patient transports. CERT drivers are essential to the efficient, safe and timely operation of the transport team.
HOW TO REQUEST THE CERT TEAM
To book your patient transfer, call the Patient Transfer Network (PTN).
The CERT team will transport any adult patient and any pediatric patient > 2 years old. Pediatric patients < 2 years old are dealt with on a case by case basis.
BCEHS transport coordinating teams will take care of the rest and will decide the best transport method for your patient. This is based primarily on timeframe, acuity, needs in transport, available resources and the operational needs of the Health Authority and/or BCEHS. If your patient is STAT, the fastest route will always be sending with your own team or via Air with CCP, depending on transport distance and logistics. 
Regular site CERT RN's, when not out on transport, are always available via the Operator or by searching the On Call Directory on the Island Health Intranet under "Collaborative Emergency Response Transport": 
https://medicalaffairs.viha.ca/oncall/BrowseSchedules/, if your unit requires their assistance.
CERT Team resources can also be found on the Access & Transitions Platform on the Island Health Intranet: 
https://connect.islandhealth.ca/depts/ATP/SitePages/Home.aspx
CERT Team Motto
Getting you to the care you need.
CERT Team Vision Statement
The CERT Team connects all people within the Vancouver Island lands with the care they need for the best possible health outcomes.​