Posted on: March 28, 2023
REDCap (Research Electronic Data CAPture) is a powerful data management tool that's advancing health services management, quality improvement, innovation, and research at Island Health and across BC.
On March 22, Island Health reached a major milestone: 1,000 REDCap projects have been created at Island Health since its launch in 2014!
Check out this infographic celebrating 10 years of REDCap at Island Health
Get the details on its evolution at Island Health in this report.
Jump to: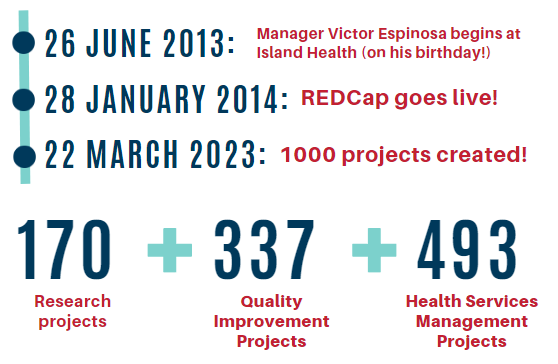 Congratulations to the following winners of the date-guessing contest, who will receive some REDCap swag of their choice:
Monta Harrison, Decision Support Consultant and frequent REDCap user (who got the date exactly right: March 22!)

Linda Bizier, Substance Use Counsellor (guessed March 23)

Angie Kurtz, Nursing Unit Assistant (guessed March 21)

Madhis Hashemi, Research Coordinator, VGH Physiatry Rehab Clinic (guessed March 20).
The 1,000 Project: Snapshot
Who requested it? Aimee Falkenberg, a Forensic Nurse Examiner and Clinical Coordinator for the Nanaimo Forensic Nurse Examiner Program (CI/NI).​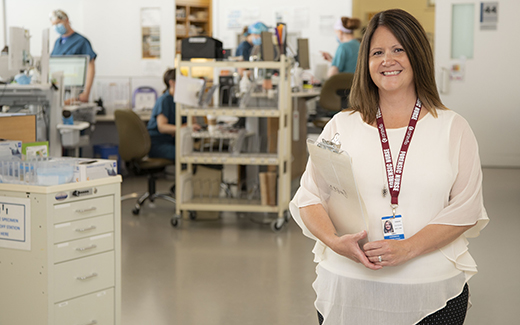 Aimee working in the ER after seeing a patient and getting ready to film a video for Island Health.
How will Aimee use the project? Aimee and her team will use the REDCap project to collect statistical data for the forensic nursing program. This will not only allow them to increase their skillset and educate forensic nurse examiners; it will also shed light on the increasing levels of intentional violence and injuries they're seeing. 
Forensic Nurses are on call 24/7 and 365 days of the year. They see survivors of intimate partner violence, intentional relational violence, family violence, sexual exploitation and sexual assault across the lifespan, all genders up to 7 days post incident.
What's the impact? Aimee says that "having data to show what types of injuries we are seeing and the significance of those injuries to the health and wellbeing of survivors will help us develop interventions and research projects that will directly impact care outcomes. I am excited to start this project, to see the benefits of the data collection and to make deeper and greater impacts for survivors of intentional traumatic violence."
Why did Aimee choose REDCap? It came with a strong recommendation: "Using REDCap for data collection was a very easy decision to make. Trauma Services is using REDCap for a large trauma project and Darren Chan (the Trauma Coordinator for CI/NI) said it was seamless to use and crucial to the work they do."