Posted on: June 22, 2022
Pride month offers us in the 2SLGBTQ+ community opportunities to celebrate proudly. And what party isn't better with more people to join us? We've heard an eagerness from staff to get involved and we encourage everyone to celebrate Pride in the way that works for them.
Here are some ideas to show your support for 2SLGBTQ+ communities: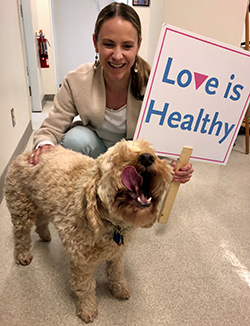 Participate in an event: search the Vancouver Island Queer Resource Collective website for local groups and celebrations happening in your area. Don't be shy to reach out and get involved!
Victoria Pride Parade and Festival: On June 26, head downtown and walk in the Parade, then stop by the Festival to say hello to the Harm Reduction Team at Island Health's booth.
Share what you're up to: We love seeing and hearing how you celebrate Pride!
Learn: Pride is more than just a party (say what!?). Allyship involves learning about the historic and current issues faced by 2SLGBTQ+ communities, reflecting on your assumptions and bias, and committing to taking actions that support equity, inclusion and safety for people in 2SLGBTQ+ communities.
Zoom: Jazz up your virtual Zoom background. Because who doesn't like super colourful (slightly distracting) backgrounds?
One more thing…
We appreciate your questions and comments posted in these articles, and sent to pride@islandhealth.ca. Please continue to share your questions, comment and/or concerns. Together we will move toward creating inclusive environments so that all feel welcome, valued, and respected.