Updated on: May 8, 2023
Here we share some events happening during Nursing Week (May 8-12) that you may be interested in attending, or participating in on-site.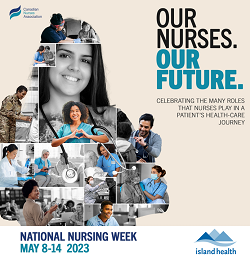 Have an event you want to share? Email it to TheWeekly@islandhealth.ca, along with any Nursing Week photos, and they will be added to this page, share in the Flickr album, and/or share on Island Health's social media platforms. Happy Nursing Week!
___​_____________________
LOCAL EVENTS: 
Monday, May 8:
Join Island Health's VP of ​Quality, Research and Chief Nursing & Allied Health Officer, Krista Allan, along with leaders from the UVic School of Nursing and the Ministry of Health, at an afternoon tea in celebration of National Nursing Week - 3-5PM at the University of Victoria. RSVP to: nursonc@uvic.ca. See complete details here.  
Tuesday, May 9 - Friday, May 12:
Join UVic's School of Nursing and some familiar faces from Island Health (Don Versluis, NP on May 9 and Diane Sawchuk, PhD/RN/Leader and Darcy Ross, RN/Director on May 10) as they celebrate Nursing Week with a series of lunch-time conversations (May 9-12). See complete ​event information here. 
Wednesday, May  10
The BC Nurses Union is hosting a noon BBQ at the Norcross Building in Cowichan - drop by for a meat or veggie hotdog! (Northeast side of the building at the top of the stairs.)
ON-SITE HAPPENINGS: ​
Team Cowichan: 
There will be a BBQ at Norcross Road office site in Cowichan for Nursing Week 2023.​​​​​
Victoria General Hospital:
​Your VGH Stewards present Nurse Appreciation Week! ​Nurses are the heart of all healthcare, thank you for all you do! Click here​ for a complete list of events.
Saanich Peninsula Hospital :
The Saanich Peninsula Hospital Foundation is recognizing Nursing Week on social media, on digital TV's throughout the hospital and through individual pizza parties in each of the individual departments. We look for​ward to some great photos of nurses wearing the custom SPH t-shirts! 
Nanaimo Regional General Hospital:
The Nanaimo & District Hospital Foundation is working with the NRGH staff appreciation committee on plans for Nursing Week that will include daily prize draws, treats, coffee and even cake! 
Royal Jubilee, Victoria General and Gorge Road Hospitals: 
During National Nursing Week, the Victoria Hospitals Foundation will be celebrating nurses and all of our Island Health colleagues. Five units at RJH, VGH and GRH will be selected at random to win a $500 Skip the Dishes gift card to provide a meal for all staff. In addition, throughout the week our social media will be highlighting individual nurses stories, through our #HumansFirst series. 
__________________________________________
Doing something fun? Email the TheWeekly@islandhealth.ca and watch their Flickr album for photos of your friends and colleagues.