Posted on: April 26, 2023
Calling all Island Health colleagues – we want you to have your say in B.C.'s largest population health survey!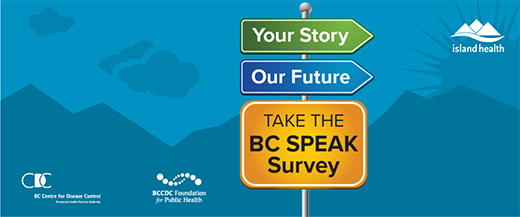 Round three of SPEAK – aka the Survey on Population Experiences, Action and Knowledge – launched on Tuesday, April 25. It asks people living in B.C. who are ages 18 and up about their social, economic, physical/mental health and well-being.
The first two SPEAK surveys focused on assessing the population's experiences during the pandemic. This year's survey will also ask about experiences with extreme weather and other impacts of climate change.
By participating in the survey – found online at bccdc.ca/SpeakSurvey – you have an opportunity to share what's important to you. SPEAK's goal is to learn what supports are needed in your communities to promote health and reduce inequities.
"In the spirit of recovery, I encourage people throughout our organization to participate in this latest round of the SPEAK survey," says Dr. Réka Gustafson, Island Health's vice president of population health and chief medical health officer. "Your input is invaluable to understand population health needs, and promote health and wellness for our diverse communities."
We also invite you to help spread the word about SPEAK and share the survey with friends, family and others so as many voices are heard and included as possible. Some of the audiences that we want to hear from include:
Racialized communities

People living in rural and remote communities

People with children and young adults in their lives

Men aged 18 to 34

People aged 75 and up

People with lower incomes and education
In previous SPEAK surveys, some of the changes that Island Health residents indicated they wanted to see included more park and urban green spaces, improved access to health care and improved work flexibility.
Survey data regarding isolation and disconnection during the pandemic was also instrumental to the development of Island Health's Resilience and Safety Grants. These aim to promote youth resilience, highlight businesses leading the way to a strong and healthy workforce, and find new ways to reach people who use substances alone.
You can explore results and data from the first two rounds of SPEAK on the dashboard.​
The latest SPEAK survey will be open until at least June 20. 2023. It is funded by the BCCDC Foundation for Public Health.