Posted on: March 29, 2023
Medical and clinical staff in a number of facilities across Island Health are now using OneSign® "Tap N Go" technology to securely move between computers and workstations on wheels (WoWs) while staying logged into the system.
For most users, the switch from entering a username and password to "tapping" with their proximity access card (prox card) has been an easy one, and saves time logging in and out. 
A few users have had a harder time switching over because of an earlier time-saving move that had become a habit for them: using the CTRL+ALT+DEL keys to initiate a "hard logout" at the end of their time at the computer. This was a great security solution before Tap N Go was live, but can be a bit of a nuisance after Tap N Go is installed. After a hard logout, users have to start the Tap N Go log-in process over again, instead of staying logged on for over four hours.
The recommended solution? Instead of using the keyboard commands, just "tap" your prox card on the side of the WoW, or on the Imprivata pad at a desktop computer.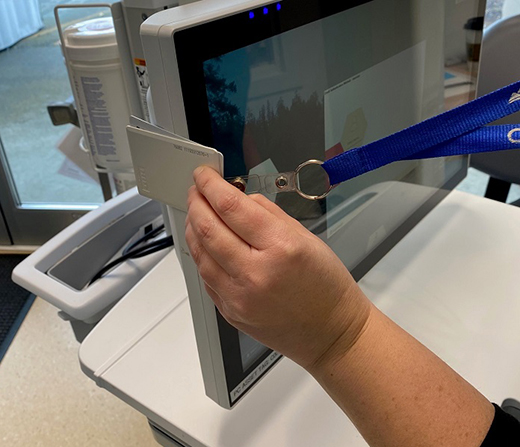 REMINDER: Tap N Go is going live at Royal Jubilee Hospital this Friday, March 31! Visit the Tap N Go web page​ for more details, including how to access support.