Posted February 4, 2021
By the numbers:
As of Feb. 2 Island Health administered 25,553 doses of COVID-19 in communities from Victoria to Port Hardy to Tofino.  Recipients are all part of the high-risk populations identified in Phase 1 of BC's vaccine distribution plan.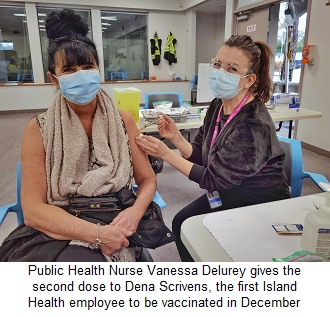 What's happening this week:
​
Sec​​ond dose vaccinations began this week for staff and medical staff of long-term care and assisted living who were the first to receive COVID-19 vaccinations in late December. Island Health's call centre will contact people when it is time for their next appointment.  Second doses are being schedule to take place 42 days after the first.
Like all of B.C.'s health authorities, and health-ca​re organizations across Canada, Island Health is entering February with very limited supplies of COVID-19 vaccine. Although the timeline for each phase may change due to vaccine availability, we are actively planning and preparing so we can quickly launch vaccinations for the next priority population groups when supplies increase again. 
Groups identified in Phase 2, scheduled to take place in February and March, include: 
Seniors aged 80 and over who were not immunized in Phase 1
Indigenous (First Nations, Métis and Inuit) seniors age 65 and over, Elders and additional Indigenous communities not immunized in Phase 1
Hospital staff, community general practitioners (GPs) and medical specialists not immunized in Phase 1
Vulnerable populations living and working in select congregated settings
​Staff in community home support and nursing services for seniors
In case you missed it:
Monday's joint update from Kathy MacNeil, President & CEO, and Dr. Richard Stanwick, VP Population Health & Chief Medical Health Officer, shared a story that reflects the dedication that teams from departments across Island Health are bringing to the vaccination effort:
Our public health and logistics teams are going above and beyond every day to ensure no vaccine goes to waste. A perfect example of that dedication is the team who showed up to run a small clinic on Friday night at Victoria General Hospital.
At 17:30 teams notified that approximately 50 doses of vaccine were available, but had to be used that night. Within 90 minutes four public health nurses and an administrative support clerk were in place and ready to immunize staff and medical staff. Island Health's call centre and VGH site leaders worked together to identify, contact and vaccinate high-priority acute staff, including anesthesiologists, nurses, doctors and paramedics. The impromptu clinic was wrapped up by 22:00.
Our appreciation and gratitude goes to all involved on Friday night, as well as those teams and individuals who are working incredibly hard every day and night to deliver available vaccine as quickly and effectively as possible.
Island Health in social media:
• Dr. Omar Ahmad reflects his experiences during the pandemic ​
• Cowichan Tribes members and Island Health staff talk about getting tested for COVID-19
 
New topics in internal Vaccine FAQs​ for staff & medical staff:
 
How do immunizers decide who gets Pfizer and who gets Moderna?
 Immunizers do not decide on the vaccine type to provide, this is determined by an operations committee. Vaccines are allocated by priority group and by vaccine storage and transport needs. People receiving the Pfizer vaccine are those who can travel to sites with ultra-cold storage capabilities. Both the Pfizer and Moderna vaccines are similar in their effectiveness in preventing COVID-19.
When will other vaccine brands be approved that are being reviewed?
 Health Canada has been reviewing AstraZeneca's vaccine since it was submitted on October 1, 2020, and is expediting the review of COVID-19 vaccines. Health Canada cannot provide a definite timeline for the completion of the review at this time (read more here). If there is approval of any additional vaccines, this information will be shared broadly by Health Canada. Updated information on vaccine procurement status is available on the Health Canada website.
If partial doses of vaccine remain in vials, could a half dose from one and a half dose from another be given in two injections? 
BCCDC policy prohibits the combination of two vials to make another dose. Only one needle may be used per vial to prevent contamination.
Is there an option to have an antibody test before receiving the vaccine? 
No. The BCCDC currently has no intention to provide antibody tests prior to vaccination. If you had, or may have had, COVID-19 illness you should still get the vaccine. This is because you may not be immune to the virus that causes COVID-19 and you could get re-infected and become sick.​