Posted on: April 7, 2021
A COVID-19 inpatient vaccination pilot project took place at VGH and NRGH to test vaccination processes for admitted patients - for people that are in hospital for a few days or longer. 
"As some patients eligible for age-based vaccination were in hospital when we began, we needed to develop a plan to offer this to these groups," says Matt Erickson, director of Acute Utilization and Flow. "This would be not only beneficial for the patients individually, but would begin to decrease the risk of spread in hospital. 
"It also would allow us to meet people where they are at and immunize folks who may have challenges getting to clinics in the coming weeks or those who may end up going to long term care. 
"The real story here is the collaboration between leaders, pharmacy, physicians and the huge effort the acute care teams need to undergo to make this a success. VGH and NRGH worked very closely together on putting this pilot together and now all of the other eight large sites have started to vaccinate patients according to age. So far we have vaccinated more than 300 hospitalized patients across the island."
At NRGH, In-patients that were 70 years of age or older, or 55 years of age and older and Indigenous, were eligible to receive a COVID-19 vaccine while admitted to hospital, thanks to a co-ordinated team effort from site leadership, NRGH hospitalists, Family Practice physicians, pharmacy and the immunization team (pictured).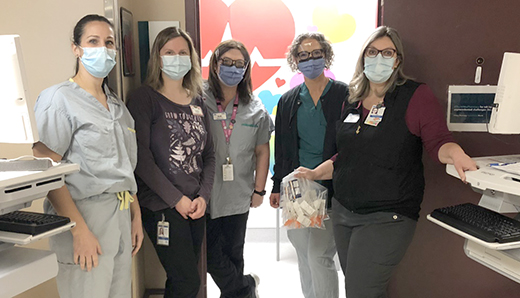 The NRGH immunization team, from left, Natasha Talbot, Laura Johnson, Kelli Jennison-Gustafson, Carol Zanette and Tammy Joseph​.
All patients that were able to receive their vaccine were delighted to have the opportunity to receive it while in our care. 
"We keep asking for more and more and our site continues to make it happen," said NRGH Site Director Marci Ekland. "This is a new process and we appreciate the hospitalist and GP group leaning in to make this happen! We're grateful for the team and the system we have.​"