Nephrologist Dr. John Antonsen deserves to be recognized for his exemplary leadership, fairness, insights, patience and for being an outstanding physician leader who is always focused on what is best for patient care.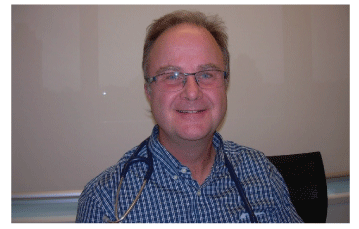 Island Health is working to develop a new medical staff recognition program and Dr. Caroline Stigant reached out to highlight Dr. Antonsen because "his demeanor is uniformly calm, his manner engaging, and his insights are clear.  When some administrative issue has challenged me or our group, Dr. Antonsen provides a path, always guided by the important question 'What is best for patient care?'  I have always been impressed by both his patience and efficiency in dealing with issues - all sides fairly heard and considered - particularly when dealing with safety issues."
Another colleague, Dr. Gaylene Hargrove, says Dr. Antonsen's selflessness is remarkable, "not only does he prioritize patient interests in his daily work, but he always ensures his colleagues have their needs met as well."
 
Dr. Stigant sat in as acting medical lead when Dr. Antonsen was on a much-deserved vacation last summer. All challenging issues were dealt with in advance of his departure and he suggested that Dr. Stigant save any new issues for his return. Throughout her time as the acting medical lead, Dr. Stigant was impressed with how courteously and efficiently Dr. Antonsen had arranged the administrative work for her.
Dr. Stigant says she is particularly thankful of Dr. Antonsen's contribution when considering his other roles beyond clinical and administrative work including his work as the head of the provincial hemodialysis committee. Asked why she thought Dr. Antonsen should be recognized, Dr. Stigant said "he is loved by patients, he has an impressive clinical knowledge and can answer all of the challenging cases, and he is an all-round great person to work with."
---
Dr. Ian Thompson recently reached out to medical staff across Island Health to ask 'what does meaningful recognition mean to you?' and seek suggestions on how to recognize the physicians, midwives, dentists and nurse practitioners who do great work everyday. A new medical staff recognition program is in the works - stay tuned for more information. Medical Staff Engagement and Development is always interested in hearing about our amazing medical staff. Feel free to contact them: medstaffengagement@islandhealth.ca
#medicalstaffofislandhealth