Updated on: January 14, 2022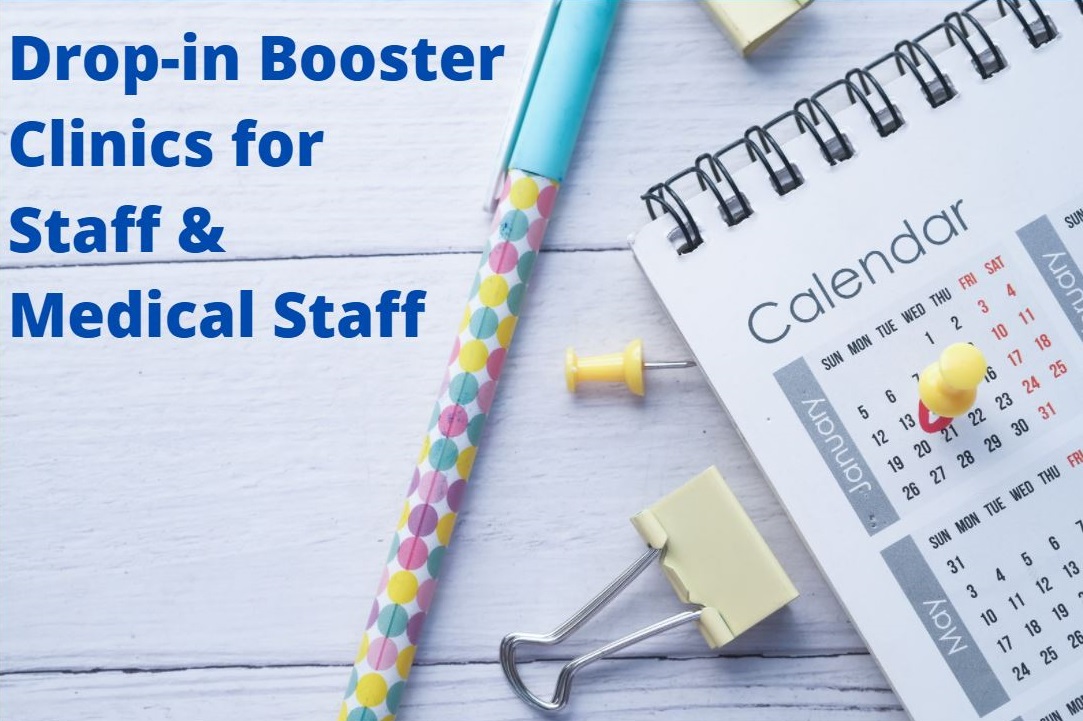 Island Healthis increasing access to COVID-19 booster vaccines for staff and medical staff with site-based clinics over the next few weeks. This week - clinics are confirmed for VGH, RJH, NRGH, CDH, and CRGH, and others are still being confirmed. 
Site-based booster clinic schedules are being updated regularly, and may change with little notice based on staffing availability.
For the week of January 17th, the following clinics are anticipated:
​Royal Jubilee - PCC 150
Tues-Fri  9am-3:30  
Cowichan District Hospital - Rm 1080 and 1069 (MI/CT Hallway)
Tues and Thurs  8am-2pm
​NRGH – Room 2050
Wednesday January 12th, 2022  4pm-8pm
​Comox Valley Hospital - Meeting Room 7-8 
Mon,Tues, Thurs 10am-2pm 
​Campbell River General Hospital - Meeting Rooms 1-3
Monday 10am-2pm
Friday 9am-noon  1pm-3pm​
Staff and medical staff, including those who work in Primary Care and Community Health Services are able to drop-in to a site clinic for a booster dose. The BCCDC recommends boosters at six months after dose two, but health care workers are able to drop-in to these site clinics to get their booster sooner if they wish. (No booster drop-ins can be accomodated at community clinics.)​
OH&S Clinics
Occupational Health and Safety will provide boosters for Island Health employees at clinics listed below. ​Please note, the below clinics will only be offering Moderna. As such, should you prefer to receive alternative immunization, please connect with PH to arrange an appointment.
| | | | | |
| --- | --- | --- | --- | --- |
| Date | Site | Room | Hours 24 hr (ex : 0900 - 1530) |   |
| Thursday, January 20, 2022 | RJH | PCC150 Learning Centre | 0900-1100, 1200-1530 | Drop In |
| Friday, January 21, 2022 | CRG | Meeting Room 1-3 | 0900-1200, 1300-1500 | Drop In |
| Friday, January 21, 2022 | NRGH | Room 2050 | 0930-1200, 1230-1430 | Drop In |
| Tuesday, January 25, 2022 | CDH | Lecture Room | 0900-1100, 1130-1300 | Drop In |
| Thursday, January 27, 2022 | VGH | Lecture Hall | 0900-1100, 1200-1530 | Drop In |
| Friday, January 28, 2022 | CVH | Meeting Room 7-8 (Education Room) | 0900-1200, 1300-1500 | Drop In |
| Thursday, February 03, 2022 | WCGH | Room C | 0930-1200, 12:30-1430 | Sign up (Alison Sundstrom) |
| Thursday, February 03, 2022 | SPH | Clinical Lecture Room | 0900-1100, 1200-1530 | Drop In |
| Friday, February 04, 2022 | CRG | Meeting Room 1-3 | 0900-1200, 1300-1500 | Drop In |
| Thursday, February 10, 2022 | RJH | PCC150 Learning Centre | 0900-1100, 1200-1530 | Drop In |
| Friday, February 11, 2022 | CVH | Meeting Room 7-8 (Education Room) | 0900-1200, 1300-1500 | Drop In |
| Friday, February 11, 2022 | NRGH | Room 2050 | 0930-1200, 1230-1430 | Drop In |
| Thursday, February 17, 2022 | VGH | Lecture Hall | 0900-1100, 1200-1530 | Drop In |
| Friday, February 18, 2022 | PHH | Main Boardroom | 0900-1200, 1300-1500 | Drop In |
| Friday, February 18, 2022 | PMH | Main Boardroom | 0900-1200, 1300-1500 | Drop In |
| Thursday, February 24, 2022 | SPH | Clinical Lecture Room | 0900-1100, 1200-1530 | Drop In |
| Thursday, February 24, 2022 | WCGH | Room C | 0930-1200, 1230-1430 | Sign up (Alison Sundstrom) |
| Friday, February 25, 2022 | CRG | Meeting Room 1-3 | 0900-1200, 1300-1500 | Drop In |
| Thursday, March 03, 2022 | RJH | PCC150 Learning Centre | 0900-1100, 1200-1530 | Drop In |
| Friday, March 04, 2022 | CVH | EOC Room 1-3 | 0900-1200, 1300-1500 | Drop In |
| Friday, March 04, 2022 | NRGH | Room 2050 | 0930-1200, 1230-1430 | Drop In |
| Thursday, March 10, 2022 | VGH | Lecture Hall | 0900-1100, 1200, 1530 | Drop In |
| Friday, March 11, 2022 | CRG | Meeting Room 1-3 | 0900-1200, 1300-1500 | Drop In |
| Friday, March 11, 2022 | CDH | Lecture Room | 0900-1200, 1230-1430 | Drop In |
| Friday, March 18, 2022 | CVH | Meeting Room 7-8 (Education Room) | 0900-1200, 1300-1500 | Drop In |
| Friday, March 25, 2022 | CRG | Meeting Room 1-3 | 0900-1200, 1300-1500 | Drop In |
| Friday, April 01, 2022 | CVH | EOC Room 1-3 | 0900-1200, 1300-1500 | Drop In​​ |