SENT TO ALL STAFF, MEDICAL STAFF, STUDENTS AND VOLUNTEERS ON BEHALF OF KATHY MACNEIL, PRESIDENT & CEO, AND DR. RICHARD STANWICK, VP & Chief Medical Health Officer
---
MAY 3, 2021
Since our update last on Thursday, we lost two more Island Health residents to COVID-19 – both men in their 60's. That brings Island Health's total to 38 COVID-19 related deaths – with 27 of those lives lost since the New Year. As always, we share our condolences with their families, friends, communities and caregivers for their tremendous loss.
Today, Dr. Bonnie Henry noted BC will be receiving one million doses of vaccine in the month of May, which means everyone who is eligible will have access to their first dose before Canada Day. As well, the increased supply has prompted the province to review the 16-week interval between doses 1 and 2, to see if it can be decreased once all first doses are distributed. As you may recall, the decision to move to a 16-week interval was made during a time of vaccine scarcity. We will share more information with you as it arises.
On Saturday, Island Health launched vaccine registrations for priority frontline workers including police, firefighters, teachers and school staff, and licensed childcare providers. Immunizing our region's frontline workers is an extremely important milestone in the provincial immunization effort. The process was not without some registration bumps, but thanks to our excellent team, we were able to problem solve over the weekend. We're happy to report that as of noon today, we've registered 8,300 people. We expect to complete immunizations for this group by late May.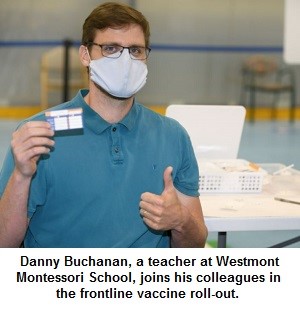 "Moving forward with vaccinating our members on a priority basis has had a significant impact on their mental health and overall well-being, and I know I can speak on behalf of all our staff when I tell you how much everyone appreciates everything you've done individually and collectively to help make them safe."
~ Scott Green, Chief, Saanich Police Department
As you can see in our numbers below, our case counts are slowly decreasing, which means the measures being taken are working. We must remain vigilant so that we continue to slide down the right side of the curve. As more people get protected with vaccine in our communities, we should continue to see decreases in case counts in Island Health and BC. If you have friends and family who have yet to register, please encourage them to do so. Being immunized is the best way to protect ourselves and our communities, and to put this pandemic behind us. 
Thank you for all that you are doing to help bend the curve.
SECONDARY IMPACTS OF COVID-19: RACISM & DISCRIMINATION
According to Statistics Canada, since the start of the pandemic, minority populations in BC have perceived an increased incidence of harassment or attacks on the basis of race, ethnicity or skin color. This is further illustrated in a recent Vancouver Police Department report that showed a 97% increase in racialized hate crimes since the COVID-19 pandemic began. In Island Health, many local First Nations have reported incidences and testimonials of racism associated with COVID-19 clusters. Research shows that racism, or discrimination based on race or ethnicity, are key determinants of physical and mental health outcomes among BIPOC populations (Black, Indigenous, and people of color).
The health sector has a key role to play in reducing these health inequities by addressing racism and discrimination through our own operations, as well as by supporting anti-racism initiatives in the wider community. At Island Health we have a lot of work to do to address racism and discrimination if we are to fully live our vision of excellent health and care for everyone, everywhere, every time. This is work we will undertake together. 
TOWN HALL AND FAQs
A reminder that we'll be having another staff/medical-staff Town Hall tomorrow at noon. An email will be shared at 6:30am tomorrow morning with the current dial-in code. Please review the Town Hall FAQs from April 20th, and ImmunizeBC's Vaccine FAQs to see if your question is answered there before submitting a question on Sli.do.
IMMUNIZATION UPDATE
PROVINCIAL UPDATE (Saturday-Today)
ISLAND HEALTH UPDATE (Saturday-Today):
Read updates from PHO Dr. Bonnie Henry and Health Minister Adrian Dix:
COVID-19 INTRANET PAGE UPDATES:
Since our last update, the following resources have either been added to or updated and posted on the COVID-19 Intranet pages.
New
Clinic Roles and Daily Activities (COVID-19 Vaccine page)
---
Stay informed:
---
Have a question or concern about COVID-19? Email pandemic@viha.ca.
Follow us and retweet/share COVID safety messaging: Twitter • Facebook • Instagram