SENT TO ALL STAFF, MEDICAL STAFF, STUDENTS AND VOLUNTEERS ON BEHALF OF KATHY MACNEIL, PRESIDENT & CEO, AND DR. RICHARD STANWICK, VP Population Health & Chief Medical Health Officer
---
Posted on: February 22, 2021
We are sad to share that since our last update to you on Friday, one more life has been lost in Island Health to COVID-19. Twenty-four people have died since the pandemic started – each person leaving behind family and loved ones, and we share our condolences with them and our care teams.
We are in a precarious time in our pandemic – and you just have to look at our weekend COVID numbers to see that. We recorded 99 new cases between Saturday and today, and the number of active cases in Island Health has climbed over 200. Our contact tracing teams were busy with four new school exposures from Campbell River to Victoria.
For almost a year you have been champions at work, and in your communities, sharing with colleagues and friends and family the importance of the measures we know can stop the spread of COVID-19. With this increase over the past few days, we are asking of you to continue to be the incredible champions you are and remind those you know and care about what we need to continue to do:
You may have heard media reports about variants of concern involved in school exposure events in Fraser Health over the weekend. Deputy Provincial Health Officer Dr. Réka Gustafson and Education Minister Jennifer Whiteside provided an update today, clarifying that the variants of concern detected in several schools actually occurred over three weeks – and there were no additional cases to report over the weekend as a result of rapid testing with close contacts. Dr. Gustafson shared that the BCCDC lab is now able to test 70% of samples for the variants of concern. With this increased capacity to test for the variants it is not unexpected to see an increase in the total number of cases with a variant.
KUDOS AND KINDNESS
Students at the Queen of Angels School in Duncan have shared some love with our staff and medical staff at Cowichan District Hospital. An envelope with three handmade cards expressed thanks and appreciation at a time when our teams really needed a boost! Our heartfelt thanks to Desmond, Alphin, Edison and their teacher for the kind gesture! It is a great reminder of how our communities are behind us each and every day. You can read the cards here.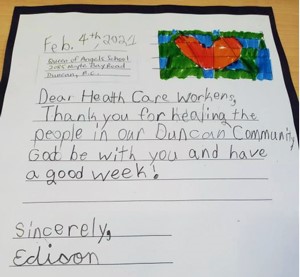 STAFF AND MEDICAL STAFF WELLNESS CHECKS
Island Health is updating the wellness check process for staff and medical staff to meet new BCCDC guidance, and to enhance our contact tracing should there be any COVID exposures in our facilities. The COVID-19 Staff Wellness Check-In Tool will be posted on units to provide staff and volunteers a reference to do one final check for signs and symptoms of COVID-19 prior to starting work. Medical staff will complete a digital wellness check when they first open Cerner each day, confirming they are well and able to provide care in alignment with new BCCDC guidance. Staff, volunteers and medical staff will also fill in a new sign in sheet on units and in break rooms. More information is available in this FAQ.
ISLAND HEALTH VACCINE STATS

PROVINCIAL UPDATE (Saturday-Today)
ISLAND HEALTH UPDATE (Saturday- today):
Read updates from PHO Dr. Bonnie Henry and Health Minister Adrian Dix:
COVID-19 INTRANET PAGES
Since our last update, the following resources have either been added to or updated and posted on the COVID-19 Intranet pages.
New
Employee Health, Wellness and Safety
External
Check out what is New Today on the BCCDC website.
---
Stay informed:
---
Have a question or concern about COVID-19? Email pandemic@viha.ca. Medical staff can email:   
Follow us and retweet/share COVID safety messaging: Twitter • Facebook • Instagram