Pediatrician Dr. Marie-Noelle Trottier-Boucher knows how important it is to keep infants with their mothers. In the hospital, the practice is referred to as "rooming-in". This means that infants and mothers should not be separated, unless there are medical or safety reasons. This is true for healthy babies but also for more vulnerable babies. Infants who have been exposed to opioids during the pregnancy and "room-in" with their mothers show a reduced need for pharmacotherapy, experience shorter hospital stays, decreased neonatal intensive care unit (NICU) admission rates, higher breastfeeding initiation rates and improved maternal-infant bonding (1).
At Victoria General Hospital healthy infants born to mothers with opioid use disorders start out rooming-in. However, if an infant requires pharmacological treatment for significant symptoms of withdrawal, neonatal abstinence syndrome (NAS), or other reasons, the infant is separated from their mother and transferred to the NICU for further observation and pharmacologic treatment. Transferred infants will often stay separated until hospital discharge. NAS affects 0.51 percent of infants born in Canada (2) and will likely continue to increase with the current opioid crisis.
Dr. Trottier-Boucher wants to improve the care for infants exposed to opioids during pregnancy by improving the current rooming-in at Victoria General Hospital. The Physician Quality Improvement (PQI) initiative will allow Dr. Trottier-Boucher to participate in quality improvement training and receive support for her project. PQI is the result of collaboration between Doctors of BC, the Ministry of Health and Island Health. Physicians with quality improvement ideas apply to the program and accepted applications receive one-year of support. This project also received support from the South Island Medical Staff Association (through Facility Engagement support).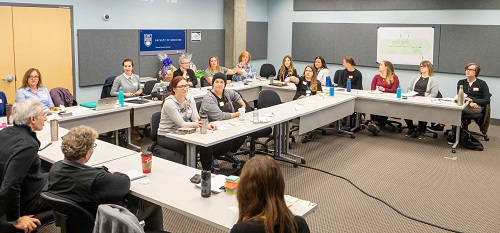 Dr. Trottier-Boucher and her pediatrician colleagues, Dr. Lauren Kitney and Dr. Katrina Stockley organized a multidisciplinary meeting earlier this month to kick-off their project. More than 30 people participated including hospital physicians and staff (nurses, social workers, maternity providers, neonatologists, pediatricians, aboriginal liaisons workers, administrators, etc.), community resources organizations, Ministry of Children and Family Development staff and parents. Rooming-in barriers were discussed and great improvement ideas were put forward. Smaller group discussions will continue in the next months as changes are proposed to help keep infants and mothers together during their hospital stay.
1. MacMillan et al. Association of Rooming-In with Outcomes for Neonatal Abstinence Syndrome. JAMA Pediatrics. 2018; 172 (4): 345-351.
2. Lacaze-Masmonteil &Flaherty. Managing infants born to mothers who have used opioids during pregnancy. Canadian Pediatric Society website, June 2018. Available from: https://www.cps.ca/en/documents/position/opioids-during-pregnancy.