SENT TO ALL STAFF, MEDICAL STAFF, STUDENTS AND VOLUNTEERS ON BEHALF OF
MARKO PELJHAN, VP, PANDEMIC PLANNING, AND DR. RICHARD STANWICK, VP POPULATION & PUBLIC HEALTH AND CHIEF MEDICAL HEALTH OFFICER
---
DECEMBER 31, 2021
IMPORTANT CHANGES TO SELF-ISOLATION GUIDELINES:  Dr. Bonnie Henry has announced changes to self-isolation guidelines for people with COVID-19. People who are fully vaccinated and either asymptomatic or free of fever with other symptoms improving, can end their strict self-isolation after five days and return to their regular activities, including work. Anyone with a fever, gastrointestinal symptoms or symptoms that are not improving should continue to isolate and seek care if needed. After concluding self-isolation people should continue to self-monitor, wear a mask and carefully observe safety measures. Anyone who is not vaccinated should self-isolate for 10 days. The BC Centre of Disease Control is currently updating their website and we will provide a link to the updated information in the next end-of-day update on January 4.
THANK YOU, FROM THE ISLAND HEALTH BOARD OF DIRECTORS:
A message from Leah Hollins, Island Health Board Chair:
"At the close of an incredible year marked by extraordinary challenges and accomplishments, on behalf of the Island Health Board of Directors, I give you my thanks for your service and dedication to our communities, and to each other.
"A year ago, you were just starting our COVID-19 immunization program. Now, you have administered more than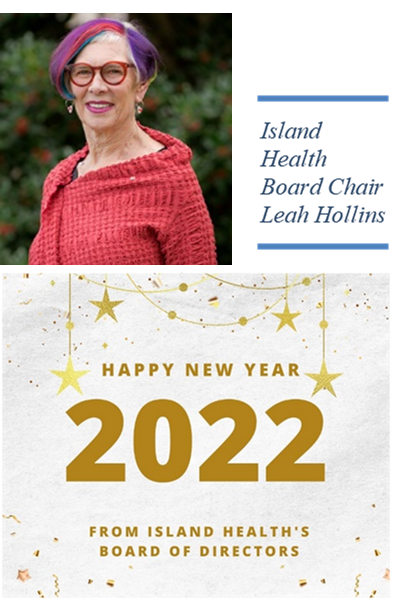 1.5 million doses of the vaccine. And you're still going – rolling into the new year ramping up the effort to offer booster doses and pediatric vaccines as quickly as possible, racing a new variant that has changed the course of the pandemic once again.
"We must acknowledge the extreme challenges the health-care system - and most importantly, the people behind it – have faced. Not only from this constantly evolving virus that has consumed our collective attention, but also the worsening toxic drug poisoning crisis. Many of you have stared these dual public health emergencies in the face day-in and day-out at work. We commend you for your work to support patients, clients, and their families; and how you have supported each other at these most challenging of times.
"Despite these significant challenges, and so many others, you deliver excellent health and care in our facilities and the communities we serve, and you continue to advance initiatives to improve health and care across the region we serve. You have so much to be proud of!"
CLICK HERE TO READ LEAH'S ENTIRE MESSAGE
STAFF AND MEDICAL STAFF TOWN HALL:  Island Health's first virtual town hall of 2022 will be held at noon on Tuesday, Jan., 4. Watch your email on Tuesday morning for login details and a link to submit your questions.
VISITOR RESTRICTIONS:  Provincial Health Officer Dr. Bonnie Henry announced today that, due to the high transmissibility of the Omicron variant, visitor restrictions will be tightened at long-term care facilities to allow essential visitors only. "I know this is the place that we have been before, and we have many measures in place," she said. "We need to decrease the number of people coming into our long-term care homes so that we can best protect the seniors and elders in our care homes and ensure that health care workers in those settings are able to manage and cope."  The new restrictions take effect Jan. 1 and will be re-evaluated on Jan. 18.
ACCELERATING BOOSTER CAMPAIGN:   Dr. Penny Ballem, the executive lead for B.C.'s COVID-19 immunization program, announced today that the province will significantly accelerate the booster campaign in January. Until now boosters have been prioritized for people at higher risk, such as health care workers, those who are clinically vulnerable, and individuals in older age demographics.  As of Jan. 1 booster appointments will be available to anyone over age 18 once they are six months past their second dose. This represents a significant increase in volume at mass immunization clinics, which are expanding in size and staffing to accommodate the growth in demand. It will take a few days to get all invitations out to newly eligible people. After that, each day invitations will be sent to people 18+ who hit the six month mark after their second dose.
IN CASE YOU MISSED IT - TESTING INFORMATION FOR HEALTH CARE WORKERS: 
Staff and medical staff who have symptoms of COVID-19 should call 1-833-737-9377 to access testing. This is a dedicated priority number for heatlh care workers. If you have a COVID exposure you are not required to isolate unless you have symptoms. 
IMMUNIZATION UPDATE

Note: the numbers above reflect the total eligible population (individuals ages 5-90+).
PROVINCIAL UPDATE (Today)
3.795 people have newly-confirmed COVID-19

20,811 people with active COVID-19 in B.C. – 220 in hospital, 73 in ICU/HAU

See new stats and data on the BCCDC

COVID-19 dashboard
Read today's statement . Provincial statements are posted here daily at 3 pm.
ISLAND HEALTH UPDATE (Today):
371 new cases of confirmed COVID-19, for a total of 1,756 active cases
22 COVID-19 patients in hospital, including 7 in HAU/ICU
Our next planned update is Tuesday, Jan. 4.
---
Have a question or concern about COVID-19? Email pandemic@islandhealth.ca.
Follow us and retweet/share COVID safety messaging: Twitter • Facebook • Instagram