SENT TO ALL STAFF, MEDICAL STAFF, STUDENTS AND VOLUNTEERS ON BEHALF OF
MARKO PELJHAN, VP, PANDEMIC PLANNING, AND DR. RICHARD STANWICK, VP POPULATION & PUBLIC HEALTH AND CHIEF MEDICAL HEALTH OFFICER
---
DECEMBER 29, 2021
BRACE FOR MORE SNOW: Environment Canada has issued a new snowfall alert for coastal BC, predicting five to 10 centimeters of fresh accumulation by Thursday. We know that severe cold and snow can increase demand for health care services and create challenges for everyone who is working to provide them. Our thanks go out to everyone who is persevering through this challenging weather to keep our services and facilities operating. If you are working in the next few days, please check your local weather forecast and road conditions, allow extra time for travel and seek alternate travel arrangements if needed so you can commute safely.  Check out Island Health's Ride-Share Resource and Snow rides available through our Vancouver Island Toyota 4X4 Club for commuting support.
PHASED RETURN TO SCHOOL:  Provincial Health Officer Dr. Bonnie Henry announced today that students will return to school gradually in the new year. Schools will be open on January 4 for the children of essential workers like health care workers, and for students who may have extra needs. The rest of the student population is expected to return to school on Jan. 10. Education Minister Jennifer Whiteside said that the week between Jan. 4 and 10 will provide time to evaluate the evolving impact of the Omicron variant and review safety plans. Read more about the back-to-school plan here.
OMICRON SPREADS AND INCUBATES FASTER:   "The puzzle is coming together around Omicron," said Dr.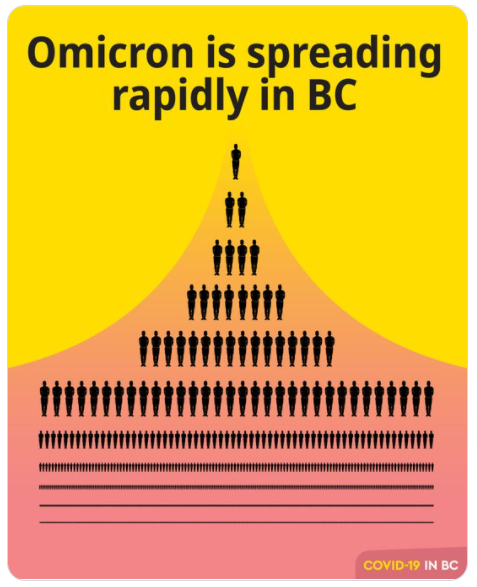 Henry, noting that this variant is spreading differently than past strains. "People are getting infected with a much smaller dose of the virus and much more quickly, and they are passing it on to others, often before they realize that they're able to transmit it," she said. This is resulting in a higher rate of mild breakthrough infections in the vaccinated population and a greater risk of reinfection for unvaccinated people who have had COVID-19.  She urged everyone to pay close attention to how they're feeling and be mindful about how we spend time with people who may be more vulnerable to serious illness. While the virus is spreading quickly, it does not necessarily mean everyone who gets sick needs a COVID-19 test, said Henry. Health care workers who have signs or symptoms of COVID-19 should seek testing as soon as possible by calling 1-833-737-9377. Members of the public who are fully vaccinated and are experiencing mild symptoms can feel safe recovering at home without seeking a test.
STATUS QUO ON PPE GUIDELINES:   Provincial direction on infection prevention and exposure control measures for COVID-19 in health care settings, including PPE requirements for managing patients with suspected or confirmed COVID-19, have not changed. Ongoing requirements for medical mask use remain in place. Click here to see current PPE guidelines.
IMMUNIZATION UPDATE

Note: the numbers above reflect the total eligible population (individuals ages 5-90+).
PROVINCIAL UPDATE (Today)
Since Dec. 24 BC has recorded:

11,017 new cases of COVID-19, for a total of 246,671

5 new deaths, for a total of 2,419 COVID-19 related deaths

There are now 16,014 people with active COVID-19 in B.C. – 206 in hospital, 66 in ICU/HAU

See new stats and data on the BCCDC

COVID-19 dashboard
Read today's statement

Our next planned update is Friday, December 31. Provincial statements are

posted here

daily, usually around 3pm.
ISLAND HEALTH UPDATE (Today):
309 newly-confirmed cases of COVID-19, for a total of 1,353

Three new deaths since Dec. 24, for a total of 143 in Island Health

 30 COVID-19 patients in hospital, plus 27 recovered (12 in ICU/HAU, plus 8 recovered)
Current hospitalizations not fully vaccinated: Non-Critical 70%, Critical Care 80%

See our site outbreaks

listing
COVID-19 INTRANET PAGES:
Since our last update, the following resources have either been added to or updated and posted on the COVID-19 Intranet pages.
New
External
Check out what is

New Today

on the BCCDC website.
---
Have a question or concern about COVID-19? Email pandemic@islandhealth.ca.
Follow us and retweet/share COVID safety messaging: Twitter • Facebook • Instagram