Navigating Island Health Medical Leadership is an interactive workshop aimed to help leaders and aspiring leaders gain a deeper knowledge of the health system and practice health leadership administrative skills.  At the end of the workshop, leaders will be able to describe the role and value of medical leaders in health administration, explain key concepts of patient safety and quality, align medical leader performance goals with Island Health and the provincial health care system, and take steps to create a values-based workplace focused on safe patient-care.
Island Health Medical Leaders including Department Heads, Division Heads, Section Heads, Medical Directors, Medical Staff Association Executive, and appropriate administrative co-leads are encouraged to attend.
Accreditation/Certification statement
The University of British Columbia Division of Continuing Professional Development (UBC CPD) is fully accredited by the Committee on Accreditation of Continuing Medical Education (CACME) to provide study credits for continuing medical education for physicians. This event is an Accredited Group Learning Activity (Section 1) as defined by the Maintenance of Certification Program of the Royal College of Physicians and Surgeons of Canada, and has been approved by UBC CPD for up to 4.0 MOC Section 1 Group Learning credits. This program meets the certification criteria of the College of Family Physicians of Canada and has been certified by UBC CPD for up to 4.0 Mainpro+ Group Learning credits. Each physician should claim only those credits accrued through participation in the activity.
Date: October 29, 2019
Location: Royal Jubilee Hospital, Begbie Hall, Woodward Room
Time: 9:30 am - 3:30 pm
To reserve your seat, please email Antoinette.Picone@viha.ca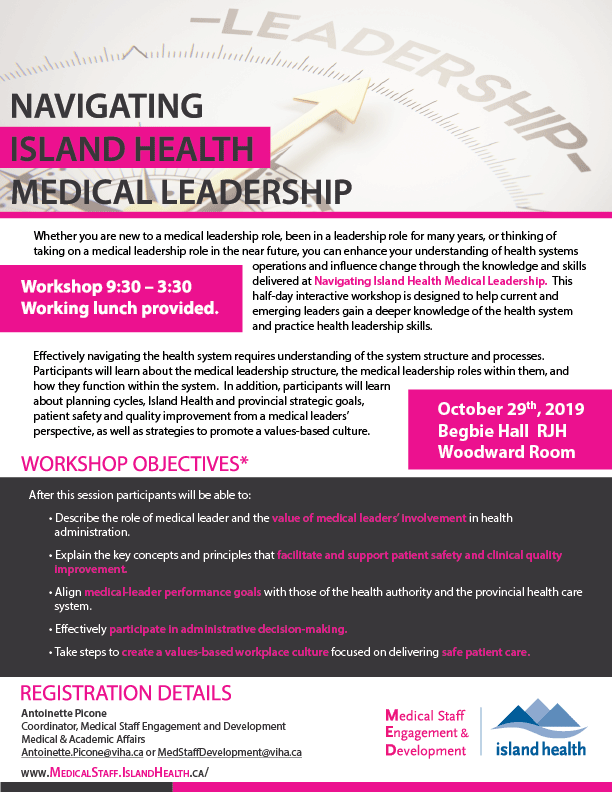 Upcoming workshops can be found on the Island Health Medical Leadership Development events page.
For more information on the workshops please contact MedStaffDevelopment@viha.ca
Past Events:
Feb. 08, 2019 – RJH, NRGH, CRGH
May 10, 2018 – Victoria
April 24, 2018 – Campbell River & Comox
Feb. 28, 2018 – Nanaimo
Feb. 26, 2018 –  Victoria