Posted on: May 1, 2022
May 1st is National Physicians' Day, and I want to take this opportunity to recognize the hard work, expertise and dedication of all physicians working in the Island Health region. ​
For many colleagues, this is a difficult time to practice medicine. An aging population, impaired access to primary care, and delays in care due to COVID-19 have increased the acuity of the patients we look after. In addition, the pandemic has accelerated many of the long-standing challenges seen in the health care system such as difficulty recruiting for all types of health care workers, increased overhead costs in private offices, lack of primary care, and relentlessly full hospitals. Despite this, you continue to provide outstanding care.
For two years, physicians have risen to the challenges of the COVID-19 pandemic. You have supported mass immunization efforts, volunteered for re-deployment and provided leadership for emergent practice change. You have broken down silos between different parts of the health care system, insisting we work together and challenging 'how we have always done it.' You have also stepped into new clinical work making sure that patients have access to COVID-19 therapeutics, and managing post-COVID symptoms. As waves of COVID have come and gone, you have adjusted infection control practices, and been flexible in your work so that the health care system could focus on the areas of highest need.
Throughout this extraordinary time, you have continued to expand and improve care. Innovative programs such as hospital at home continue to expand. New investments in primary care have sustained critical services and added additional options for patients who desperately need your care. Quality has improved with (legible) notes now documented in the electronic health record at our largest hospitals. While the toxic drug supply continues to take far too many lives, you have stepped up to provide safe care and worked in expanded addiction medicine services. In a time of staffing difficulties in every profession, you have succeeded in attracting new colleagues even in especially hard to-recruit specialties such as anesthesiology and psychiatry.  You have also planned for future innovation providing your clinical expertise to the Cowichan Hospital replacement project and building a plan to improve stroke care that will support patients from across our region in accessing life-altering treatment.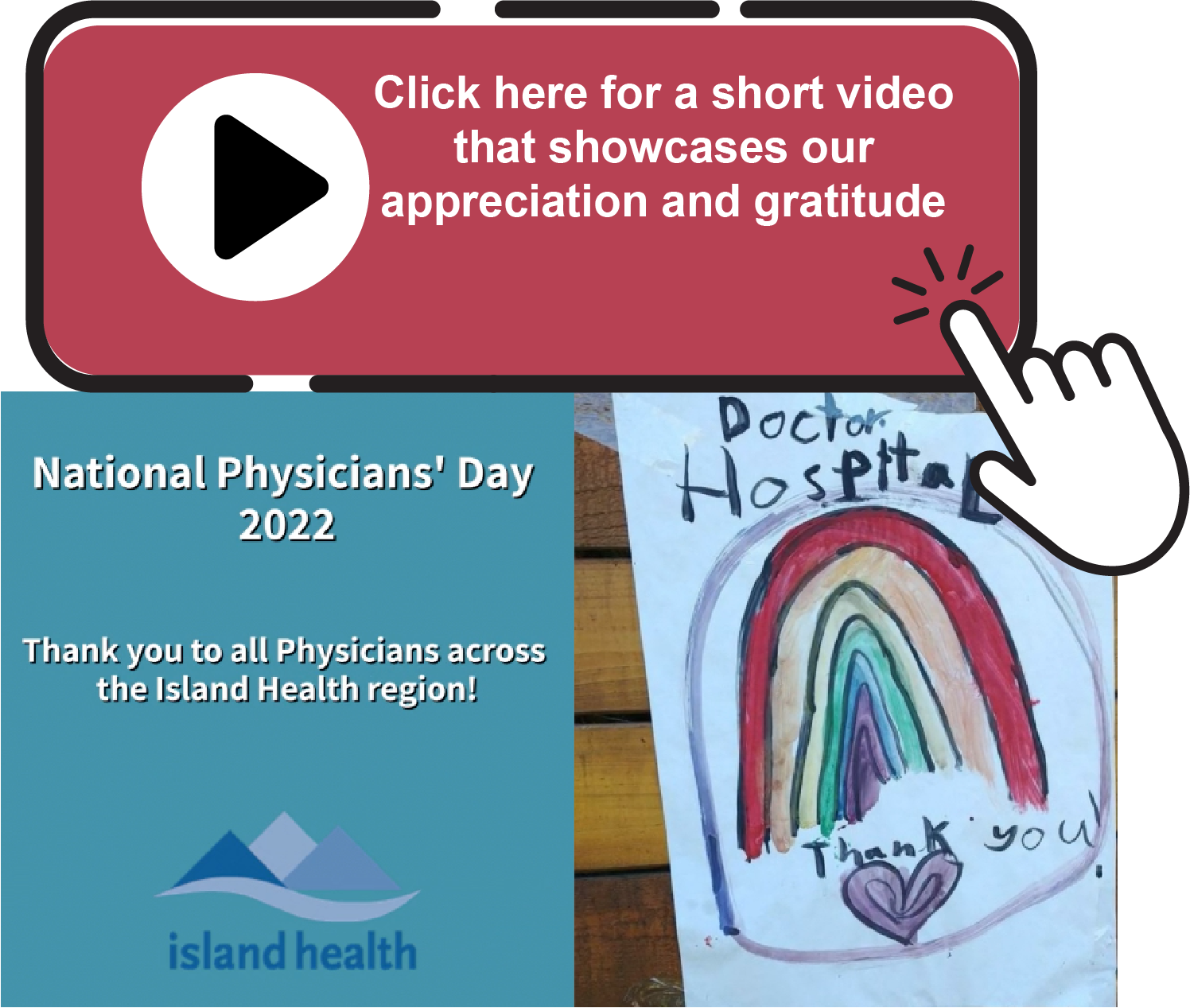 On behalf of our Island Health Executive Team, I offer my sincere gratitude to all physicians working with Island Health. Thank you for the sacrifices you have made throughout the pandemic, and continue to make on a daily basis. The service and leadership you provide is critical to our communities and the people we serve, and we celebrate your ongoing commitment to high-quality and compassionate care. 
~ Ben Williams, MD, CCFP
Vice President, Medicine and Quality, and Chief Medical Executive