Emergency physicians Dr. Mike Flesher and Dr. Chris Rumball know a thing or two about disasters. Dr. Rumball is presently Chair of the Doctors of BC Emergency and Public Safety Committee. In the past he served as medical lead for many major events such as the Papal visit to B.C., the Commonwealth Conference of First Ministers, Expo 86 and other public mass events. For many years he was Provincial Medical Director for Advanced Life Support Programs (ALS) for B.C. Ambulance and lived in Saudi Arabia for eight years serving as Chief of Emergency Medical Services for Saudi Aramco Medical Services Organization during the turbulent years of Al-Qaeda attacks on residential compounds and oil facilities.
Dr. Flesher served as chief medical director of the Vancouver Urban Search and Rescue Team, travelled to New Orleans after Hurricane Katrina, was deployed on the UN Disaster Assessment and Coordination team to The Philippines and later Micronesia for typhoons and West Africa for Ebola response. Dr. Flesher is also involved in BC's Mobile Medical Unit (MMU). The MMU is a versatile clinical space in semi-trailers that can transform into an emergency department, intensive care unit, obstetric care unit, primary care or specialty clinic, classroom and disaster response training centre.
Using their experience providing medical care during emergencies, Dr. Rumball and Dr. Flesher decided to help their Nanaimo physician colleagues prepare for disasters both big and small. With financial support from the Facility Engagement Initiative and the Nanaimo Medical Staff Engagement Society, Dr. Rumball and Dr. Flesher prepared a one-hour presentation aimed at helping community physicians prepare for disaster. Dr. Rumball and Dr. Flesher have visited most GP's community offices in Nanaimo to deliver their lunch-hour presentations and help physicians prepare for disasters.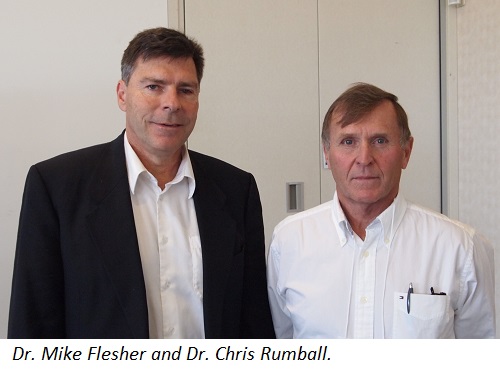 Dr. Flesher and Dr. Rumball plan to continue the office visits and expand to include specialists. With the support of Health Emergency Management BC, the City of Nanaimo and the Nanaimo Division of Family Practice they are preparing a one-day, speed-dating type event for physicians to attend later in 2019. This event will serve as the community disaster wrap-up event and will allow attendees to ask specific questions about disaster planning. For more information on physician disaster preparedness, please contact the Nanaimo Medical Staff Engagement Society at info@nmses.ca
In addition to their disaster preparedness work, Dr. Flesher and Dr. Rumball are also working with the Provincial Health Services Authority to grow the Applied Disaster Medicine Course. The course has been held six times, including twice in Nanaimo, with the MMU which allows the hospital's regular emergency department to continue to function. They plan on standardizing and accrediting the course as well as increasing awareness.
#medicalstaffofislandhealth