Posted on: May 11, 2021
In a virtual presentation, Dr. Steve Beerman, a Nanaimo physician who retired from family practice in March 2021, was recognized by The Queen for a lifetime of outstanding National and International leadership in the drowning prevention field. 
Dr. Beerman was presented with the King Edward VII Cup, awarded every two years in recognition of outstanding contributions to drowning prevention.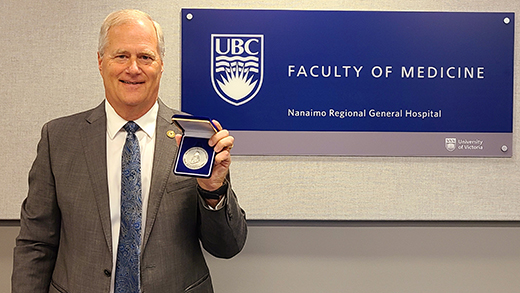 The Queen is a patron of the Royal Life Saving Society, which works across 30 Commonwealth nations to eliminate preventable death from drowning, promote water safety, and deliver lifesaving and lifeguarding education. Drowning remains one of the greatest causes of preventable death in the world today, with an estimated 235,000 deaths every year.
During the call, Her Majesty shared memories of achieving her own lifesaving qualification and award as a young girl, and praised Dr. Beerman for his 40 years of work drawing attention to drowning as a major public health issue, including his work with the United Nations to adopt a Resolution on Drowning Prevention. 
The Resolution sets out specific actions for Commonwealth countries to take to prevent drowning, and introduces an annual 'World Drowning Prevention Day', which will be marked for the first time this year on July 25, 2021.
​Watch the presentation and his conversation with the Queen on The Royal Family YouTube channel:
https://www.youtube.com/channel/UCTkC3Jt91QkqNAE4FGWkEIQ