Posted on: May 5, 2021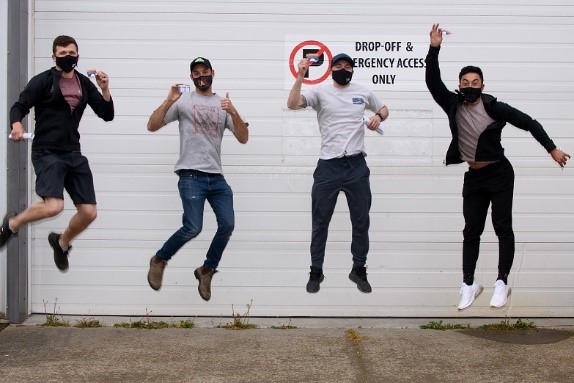 Langford Firefighters were jumping for joy at Eagle Ridge on Monday after they received their immunizations as part of Island Health's end-of-day dose process.
ISLAND HEALTH'S WEEKLY VACCINATION DIGEST: MAY 5, 2021
As of May 4 our immunizing teams administered 314,457 first doses of COVID-19 vaccine – 42.5% of Island Health's eligible adult population. Administration of second doses has resumed, as individuals who received their first dose before mid-February reach the 112-day dose 2 interval. So far 13,553 second doses have been administered.
 
Second dose clinics for residents of long-term care facilities are getting under way today.
 
Large-scale immunization of priority frontline workers is now underway. Firefighters, police, K-12 staff and childcare providers from across Vancouver Island are receiving their immunizations.  
 
Everyone in BC who is 18 or older can now register for vaccination. Encourage your family and friends to register if they haven't done so yet. Advance registration makes it easier and faster to contact people when it is time to book their appointments. Direct them to www.GetVaccinated.gov.bc.ca to register. 
Haven't booked your first dose? It's ok – there's still time. There are many reasons why healthcare workers may not have received their first dose of COVID-19 vaccine, but it's definitely not to late to make an appointment, either directly through Island Health or through the provincial government's registration system. Click here to submit your contact information to Island Health's call centre, or here to book through the provincial registration system.
 
 If you received your first COVID-19 vaccine prior to February 14 and have not been contacted to make an appointment, please phone the call centre at 1-844-439-1919. If you received your first dose of vaccine after February 17, please do not call to book an appointment yet. We will continue to update you on dose 2 scheduling in the days and weeks ahead.
 
Share how the pandemic has affected you and your family: The BC Centre for Disease Control needs your input for a survey that addresses life during the pandemic, vaccines and post-pandemic recovery. This survey will provide important information that will guide our province's post-pandemic recovery.  Click here to learn more and fill out the survey.
 
PRAISE FOR VACCINATION TEAM:  A letter from the community to Health Minister Adrian Dix,
My husband and I, both in our late 60s, got our first inoculation of the Pfizer vaccine this week at Beban Park Social Centre in Nanaimo. We wish to thank you and compliment everyone in the BC Health Ministry and the Island Health Authority for such a terrific experience.
 The entire process could not have gone more smoothly. Online registration and our appointment bookings were a breeze. We are grateful that we did not have to stand in line upon arrival at Beban Park and we were seen right away. 
The nurses giving the shots were kind, patient, thorough, and informative. All the volunteers were helpful, friendly, and supportive. Everything was well-organized and efficient. Thank you so much for this -- the logistics must be staggering, but it was so well-managed. We consider it a miracle to get a vaccination at all!
In general, I would like to thank everyone from the bottom of my heart for the hard work, many, many hours, care, and dedication that you and your health departments have already put in and that you continue to devote to managing the COVID-19 situation. 
Thank you for guiding us and urging us to do what is best for the community.
 
Finally, take heart, Dr. Henry. So many of us believe you are doing a marvelous job.
 
Yours truly – L.N.​