Posted on: March 31, 2021
​​OUR FAVOURITE IMAGE OF THE WEEK:
 Do you recognize the woman in this picture? Her family might not, after all of the family time she sacrificed in the past year!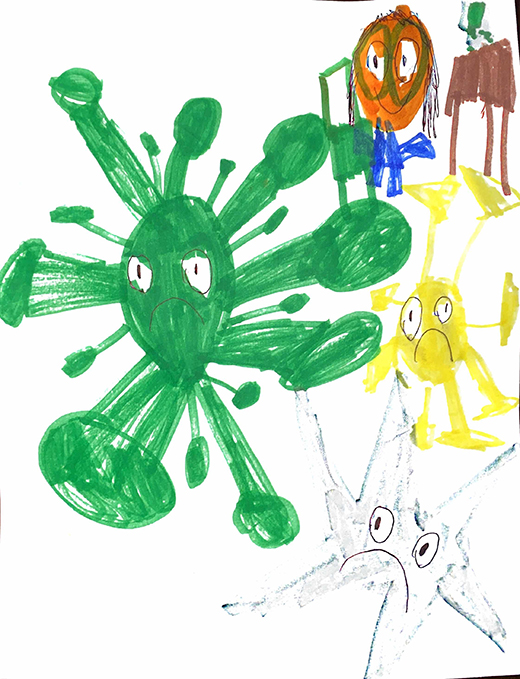 This drawing is Public Health Director Tara Fitzgerald fighting against COVID-19. That's her at upper right, in blue, wearing glasses. It was created by one of her 7-year-old twin daughters. Fitzgerald, like countless staff and medical staff across Island Health, has spent the last year wholly focused on the pandemic and immunization campaign, often missing out on time with loved ones.  
Thank-you to every member of our teams for their COVID fighting efforts!​
 
Island Health's Weekly COVID-19 Immunization Digest for March 31
 
As of March 30th our immunizing teams delivered 119,273 first doses of COVID-19 vaccine, more than 16% of the Island's adult population.

Immunizing teams continue to push hard to vaccinate as many people as possible each day, delivering 3,609 doses of vaccine on Tuesday alone. ​Immunizations are taking place across the entire health authority, at large mass immunization clinics, in community outreach settings, in the homes of house-bound clients, and in small rural communities.

The community vaccine rollout continues to move ahead at an accelerated pace. As of March 30th  any Indigenous person age 18+ or non-Indigenous person 73+ can register for a vaccine. Also newly eligible this week are people who are considered to be Clinically Extremely Vulnerable. 

While the focus of the vaccine campaign is definitely shifting to public populations, health care workers in the acute, community and allied sectors who became eligible in Phase 1 or 2 of the vaccine campaign are still eligible to register for a vaccine. If you have not yet submitted your information to make a vaccination appointment please follow this link to declare your eligibility. Please note that this form is for all priority population groups, including Island Health staff and medical staff. 

CANADIAN RED CROSS WORKERS JOIN MASS IMMUNIZATION EFFORT: A new partnership launched this week sees Red Cross workers supporting Island Health's mass immunization efforts at the four largest immunization clinics on the Island. Click here to read more. 

"WE COULDN'T DO IT WITHOUT EACH OTHER" – PUBLIC HEALTH & MHSU TEAMS PARTNER TO VACCINATE PEOPLE EXPERIENCING HOMELESSNESS: The vaccine outreach has been successful because of the partnership between public health and mental health and substance use clinicians working closely with community partners. These teams worked together in new ways to remove barriers and boost the number of people who received the vaccine. Click here to read more.  

MILESTONE: 100,000 ISLANDERS VACCINATED: Island Health and our partners celebrated an important milestone on March 26 when we officially vaccinated 100,000 people. Click here to read more. ​