Island Health moved into the next vital phase of its COVID-19 vaccination program on Monday – starting to provide vaccinations to residents of 110 long-term care and assisted living facilities throughout the health authority.
While our mass immunization work faces many challenges, this is an important milestone in our shared effort to keep COVID-19 at bay.
"There's a ray of hope throughout our building today as our residents received their COVID immunization," said Shannon Johnson, Director of Resident Services at Victoria's Kiwanis Pavilion. "The overall joy and excitement from residents and families is palpable. This means that we may avoid the catastrophic affects that this virus has had on the vulnerable residents we serve."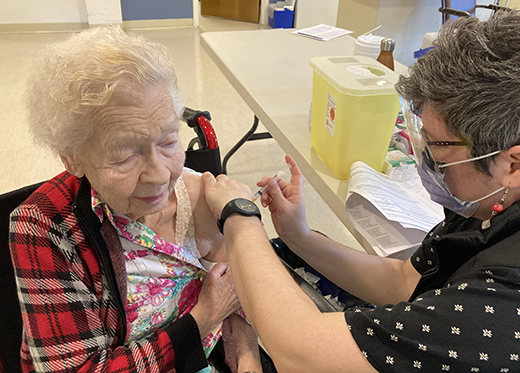 Among those receiving her vaccination at Kiwanis Pavilion Monday was 103-year-old resident Vivian Hagen, above.
"We're pretty excited. We're looking forward to her having the freedom to see all of her family," said her daughter Leslie Clark. "So far I've been the only one. The limited visitation is me, but I have siblings and children and grandchildren that would love to see her too. It's been such a long time. We are very, very thankful for the care she's been given at Kiwanis Pavilion. They've done a fantastic job of keeping the residents safe."
Even though vaccines have been administered, pubic health guidelines to prevent the spread of COVID-19 are still in effect, including visitor restrictions. Having the residents vaccinated is an important step to take before the PHO can lift those restrictions.​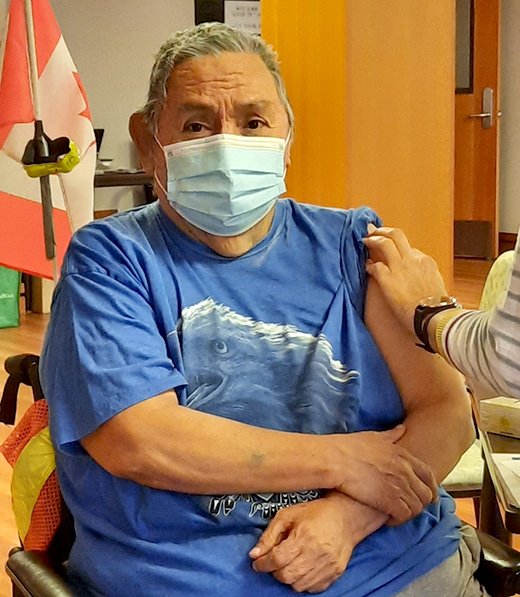 Also receiving the vaccine on Monday were residents of Ts'i'ts'uwatul' Lelum, Assisted Living in Duncan. Among them was Cowichan Elder Andrew Thomas, right.
"To be able to host the vaccination within Ts'i'ts'uwatul' Lelum is a blessing for the Residents, staff, and their families because it is adding an extra layer or protection for all involved," said Audrey George, Assisted Living Manager at the M'akola Housing Society in Duncan. "All the residents, staff, and their families have been working and/or living through the pandemic which has majorly impacted our lives in more ways than one.
"To be able to get one step closer to our previous 'normal' lifestyle would be amazing!"
​
"I am happy to be able to help prevent the spread of COVID19," said Corinne Riggs, Cowichan Lodge resident, left. "Looking forward to getting out in the community again. 
"Hopefully we will be able to get back to a normal life and have some fun!"
Long Term Care vaccinations continued on Tuesday, including Campbell River's Yucalta Lodge. 
"It is a very historic moment!" said Manager Jae Yon Jones. 
"There was so much joy and laughter during the clinic and the energy was contagious! Both our team and the PH team were super efficient and organized!"
Yucalta resident Geoff Davey was among those to get his vaccination, below. His daughter Anne Davey said the family is looking forward to be able to visit with her dad more freely in future when the pandemic is over.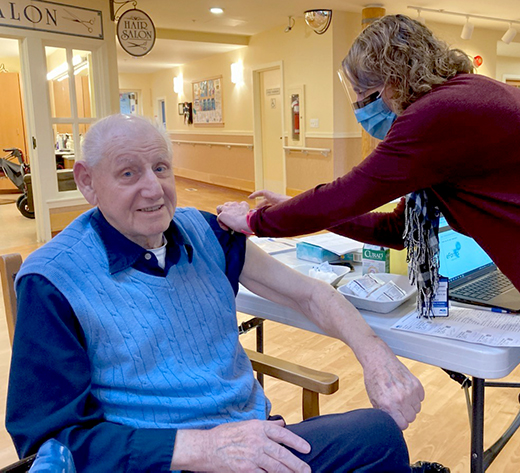 "All through this pandemic I have appreciated all that Yucalta staff have done to keep my father safe," she said. "The administration set up adequate protocols to ensure the residents' safety throughout this awful time.  They have kept them engaged as they have been in lockdown.  I am impressed how my father continuously expresses his "love" for the staff. With receiving his vaccination today, that just adds to the layers of protection he has."
"I'm so excited to see the residents receiving their vaccines and knowing that more family and volunteers will be able to be a part of their lives again," said Yucalta's Recreation Supervisor Joanne Amberson.
​Island Health expects to have all Long Term Care residents vaccinated by early next week. ​
We are also committed to the vaccination of our acute care teams, starting with the priority areas, but the timing and volume may be impacted in the short-term by the Pfizer delay.
As information becomes available we will share it.
More information:
COVID-19 FAQs for Island Health staff
Vaccine Distribution in Priority Population Order
COVID-19 vaccination at-a-glance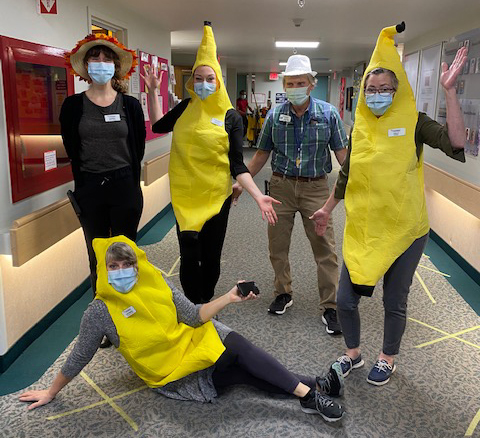 Kiwanis Pavilion staff were among those providing invaluable vaccination assistance at long term care and assisted living sites. This bunch went bananas for the occassion.