Posted on: September 5, 2023
Are you passionate about the environment, our health and our planet's health? Then we want to hear from you!
We invite all staff, medical staff and volunteers to participate in the Island Health Climate Change and Planetary Health Engagement Survey. The survey is voluntary and anonymous; it only takes 10-15 minutes to complete, and will be open for three weeks.
​​​​​​​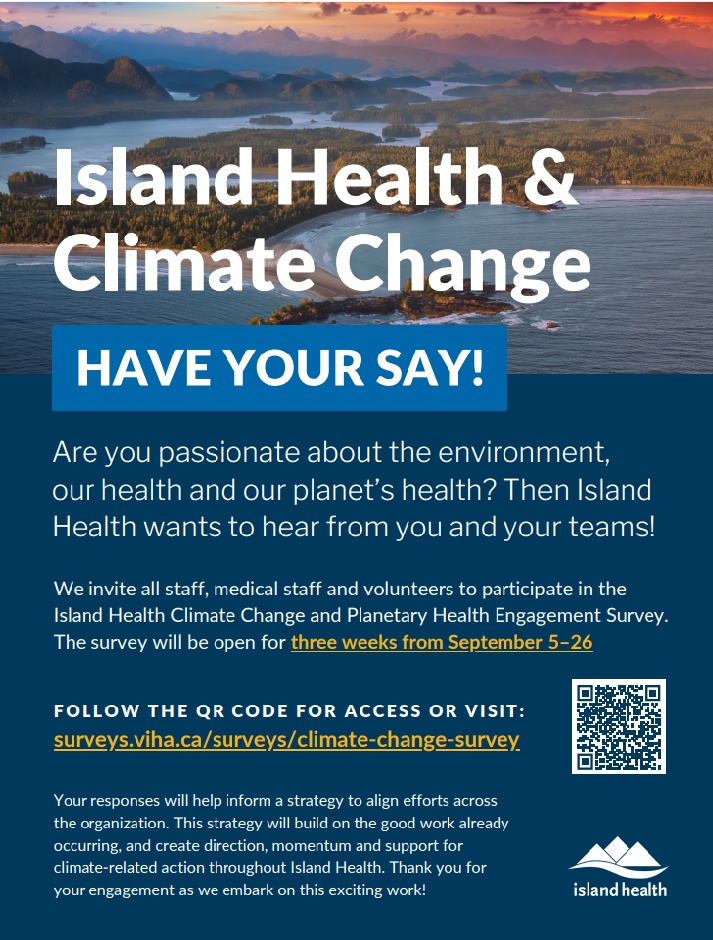 Click here to download poster (PDF).
Your input will be vital to Island Health as we develop a Climate Change and Planetary Health Strategy to align efforts across the organization. This strategy will create direction, momentum and support for climate-related action – one of Island Health's top priorities and a key part of our strategic framework (pillar 4) and current priorities and outcome goals (priority 7).
We also encourage you to print and display this promotional poster in staff rooms, physician lounges, administration offices and other suitable spaces. When we've compiled the results we'll make sure to share key findings.
Survey results will help support Island Health's Climate Change and Health team, which is being developed to strengthen community climate resiliency within the Island Health region, and help minimize the threats that climate change poses to health, health infrastructure and access to health care.
The team, part of the Population and Public Health portfolio, will also collaborate closely with the energy, environment and climate change programs in the Facilities portfolio. The aim is to enhance the climate resiliency of the health-care system and lessen Island Health's environmental impacts.
Consultations are also being held with departments, teams and individuals to learn more about efforts already underway at Island Health to address climate change and highlight other positive steps we can take.
"Climate change is having immediate, profound impacts on the heath of people living in the Island Health region. The planetary health approach to promoting health recognizes that human well-being is dependent on the health of planet Earth," says Réka Gustafson, vice president of population health and chief medical health officer.
"Island Health has an obligation to lessen its contribution to climate change, recognize planetary health as a critical priority, and adapt to meet the impacts on the population, our staff and our infrastructure. We look forward to hearing from people across the organization to help inform our Climate Change and Planetary Health Strategy."
This strategy will aim to:
Take action on climate change, which is having a marked effect on the health of people living in the Island Health region

Connect innovations already occurring across Island Health, and support grassroots interest and passions among all Island Health staff

Build resiliency to significant organizational risks posed by climate change, and realize the adaptation and mitigation benefits of greener technology and processes

Collaborate with Indigenous communities; ensure that Indigenous values and knowledge inform the Climate Change and Planetary Health Strategy

Align with government mandates and direction, including provincial direction such as the 

CleanBC

plan

and the

Climate Preparedness and Adaptation Strategy

; federal direction such as

Canada's climate plan

; and international direction, including commitments on behalf of the United Nations and World Health Organization
The climate change strategy will also build on the good work already occurring at Island Health, including:
A recycling program for personal protective equipment at acute care sites (currently in the development phase)

A "Gloves Off" campaign to improve hand hygiene rates across all Island Health sites and decrease inappropriate glove use
Environmentally sustainable kidney care – taking action to reduce plastic waste in dialysis and contributing to low-carbon kidney care pathways
Critical Air Project – targeting opportunities to reduce loss and waste of aerosol inhalers as well as optimizing climate-conscious inhaler prescribing and disposal practices
Continued progress towards a 50% reduction in the organization's reported greenhouse gas emissions by 2030 and an 80% reduction by 2050
A new Cowichan District Hospital that, when complete, will be the first fully electric hospital in B.C. It will also be 30% more energy efficient and 60% more water efficient than the current hospital, with a 75% reduction in greenhouse gas emissions.
Thank you in advance for your participation!