Posted on: June 30, 2021
​Island Health's Hospital at Home made the front page of the June/July edition of Canadian Healthcare Technology magazine.
Dr. Sean Spina, Research Lead and Evaluation Co-Lead, was interviewed by the magazine in May. The latest edition came out June 29 with Dr. Spina, Dr. Shauna Tierney, Medical Lead, and the story on the front page.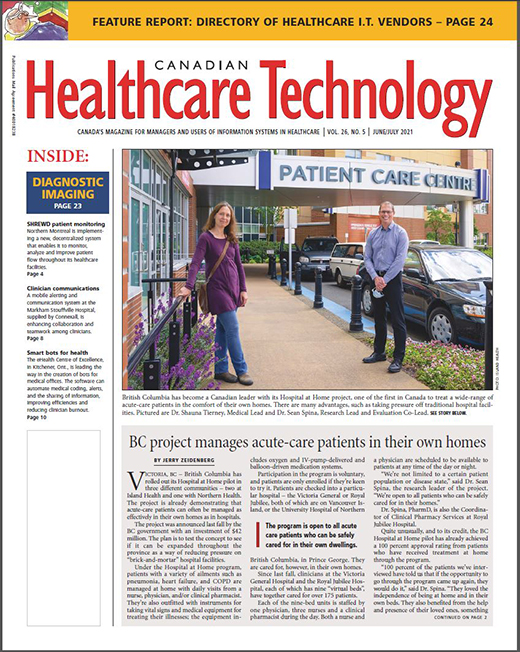 Or check out the full Canadian Healthcare Technology magazine edition here.
"Thank you everyone for all your work on the program," Dr. Spina said Tuesday. "It is truly a pleasure working with all of you on this exciting work."
The Hospital at Home (HaH) program launched out of Victoria General Hospital in November 2020 and expanded to RJH in March of this year. HaH allows for a subset of acutely ill, clinically-stable patients to choose a safe and effective alternative to traditional facility-based in-patient treatment.
HaH patients have 24/7 access to treatment, diagnostics, and hospital-level expertise from the comfort of their own home. Since it was launched, our HaH teams have established clinical workflows and implemented new technologies to support this transformative care delivery model.