Posted on: October 13, 2021
The pandemic continues to take so much of our time and energy, and is the reason getting a flu shot is particularly important this season – not only for influenza prevention, but also to stay healthy while COVID-19 continues to circulate in our communities.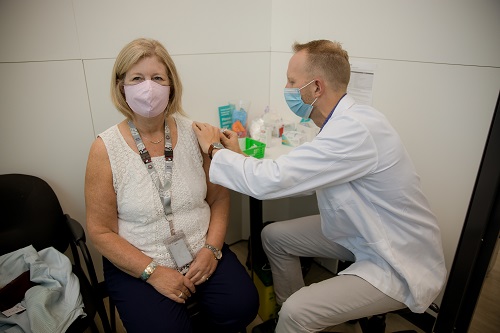 As health-care workers, we know complications from influenza can be serious and even deadly for some of our patients, clients, residents, colleagues and loved ones. We have a never-ending duty to protect the people we care for, as well as each other. 
When used in conjunction with other prevention measures, such as hand washing and staying home when sick, the flu shot continues to offer the best protection against influenza. 
Fewer people had influenza last year because public health measures including handwashing, masks and physical distancing used to stop the spread of COVID-19 also stopped the spread of influenza. This means our immunity against influenza may be lower than usual – so getting your influenza vaccine this year is more important than ever. 
For our facility-based employees – staff and medical staff clinics will run from October 18th through November 10th to make it convenient for those who work there. Staff can also receive the flu shot from local pharmacists or your family physician. 
Employees who are working at home or in the community are encouraged to be immunized by a community provider or your family physician. Don't forget to report your flu shot.
Thank you for taking care or yourselves, each other and our patients by getting your flu vaccine.