Posted on: April 7, 2021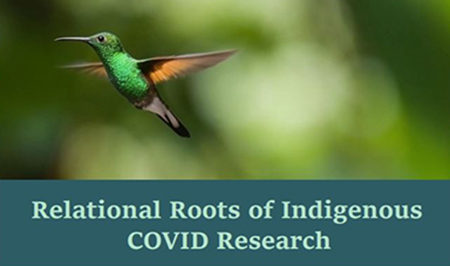 Click picture for PDF poster version
Friday, May 7, 2021: 3:00pm – 4:00pm
In this talk, we will engage in a form of visiting to share our thoughts and perspectives about the vital role relationship plays in research involving Indigenous Peoples. 
We will use the recent surge of Indigenous COVID research as an example of the critical role of established, meaningful relationships in facilitating rapid research opportunities. We will also describe how the absence of pre-existing relationships can lead to distrust and lack of motivation to engage in research partnerships.
Register at https://relational-roots.eventbrite.ca​
Presenters
Dr. Danièle Behn Smith MD CCFP IFMCP
Dr. Danièle Behn-Smith is the Deputy Provincial Health Officer, Indigenous Health. Dr. Behn Smith has been working to support Indigenous health in the Office of the Provincial Health Officer since 2015. Dr. Behn Smith works alongside Dr. Bonnie Henry, Provincial Health Officer. 
Dr. Behn Smith provides independent advice and support to the Ministry of Health on Indigenous health issues. In support of the ministry's strategic agenda, Dr. Behn Smith works in meaningful partnership with Indigenous collectives, communities and organizations to advance wellness and disrupt colonial practices and policies.
Dr. Behn Smith is Eh Cho Dene (Big Animal People) of the Fort Nelson First Nation in B.C. with French Canadian/Métis roots in the Red River Valley. Since getting her Doctor of Medicine from McMaster University and completing residencies at the universities of Ottawa and Manitoba, Dr. Behn Smith's career has spanned the country and the globe.
She has practiced rural medicine in remote and First Nations communities across Canada. She was a board director for the Indigenous Physicians Association of Canada, the director of education for the University of Alberta's Indigenous Health Initiatives Program and the site director of the University of British Columbia's Aboriginal Family practice residency. Since 2014, she has transitioned to a functional medicine practice. Functional medicine is a complex systems biology approach to family practice that resonates with Indigenous approaches to health and healing.
Dr. Charlotte Loppie PhD
Dr. Charlotte Loppie is a Professor in the School of Public Health and Social Policy and Associate Dean-Research for the Faculty of Human and Social Development, University of Victoria. For more than 20 years, Charlotte has responded to requests by Indigenous communities, collectives and organizations, to partner on community-led research, capacity bridging, team building, and knowledge mobilization. She has also spent that last two decades supporting the anti-racist and decolonizing work of institutions, systems, programs and services.
Moderator
Dr. Diane Sawchuck is Lead, Evidence, Evaluation, and Knowledge Translation at Island Health.