We are pleased to introduce Dr. David Butcher as the new chair of the Health Authority Medical Advisory Committee (HAMAC).
Dr. Butcher is a rural family physician who has practiced on Salt Spring Island for 7 years providing office and hospital care. Since graduating from UBC, Dr. Butcher has spent more than two decades practicing in rural locations in the Northwest Territories, Ontario, and British Columbia.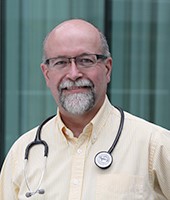 Dr. Butcher previously served as Northern Health's Vice President of Medicine and Clinical Programs. He currently serves on the Rural and Remote Division of Family Practice Board and as co-chair of the Island Health Rural and Remote Collaborative Services Committee. He has also held a number of advisory, board and leadership roles with various professional organizations.
"Dr. Butcher's professional experience and dedication to patient care make him an ideal leader for the Health Authority Medical Advisory Committee" said Island Health Board Chair Leah Hollins.
When he's not working, Dr. Butcher plays the bass viol with a chamber music group and sings choral music, enjoys sailing, skiing, paddle-boarding and, in summer, cruising in his 1973 Triumph convertible.
As Chair of HAMAC, Dr. Butcher will lead the committee as they advise the Island Health Board of Directors on medical staff issues. These include medical staff privileges, the provision of medical care, the quality of medical care, medical staff resources, continuing education and planning to meet the medical care needs of the population served by Island Health. 
Thank you to the outgoing HAMAC Chair, Dr. Sam Williams for leading the committee over the past ten years
-Dr. Ian Thompson, Acting Vice President, Medicine Quality and Academic Affairs.