Dr. Jennifer Balfour, Dr. Krystal Cullen and their colleagues wanted to find a better way to care for pediatric patients who came through the emergency department and required follow-up care. They also knew that undergraduate and postgraduate trainees needed to see patients in an environment where they could learn how to assess and manage common pediatric problems to be ready for practice.
Under the status quo, pediatric patients in the ED would be referred to either the on-call pediatrician or the community-based pediatrician's office. This produced lengthy wait times and significant uncertainty for the patients and families. Some would return to the ED multiple times rather than risk the wait, resulting in overuse of ED services.
The solution - an Urgent Pediatric Access Clinic (UPAC) – a designated facility and staff to serve pediatric patients who required follow-up within two weeks. In Dr. Balfour's words, "the aim was to get the patients to the right specialist in a timely, predictable fashion."
The benefits are clear: Reduced pediatric specialist wait times, less strain on the pediatrician on-call, and easier discharge from the ED as the patient and their family know the plan for a prompt and predictable follow-up.
Creating the UPAC involved a broad team of support. Drawing on expertise and input from emergency physicians, pediatricians, ED nurse clinicians, pediatric nurse clinicians, and family practice physicians and teaching faculty, the group brainstormed what such a service would look like, and engaged with Island Health about logistics for the space and staff required for the clinic. Throughout, Island Health was a real partner in this effort, as well as the Island Medical Program.
Manager of pediatric services Trapper Edison is excited by what the UPAC has been able to accomplish since January, "we have the right location with the right people doing the right work and we're excited!"
Learn more about the UPAC on the South Island Medical Staff Association website.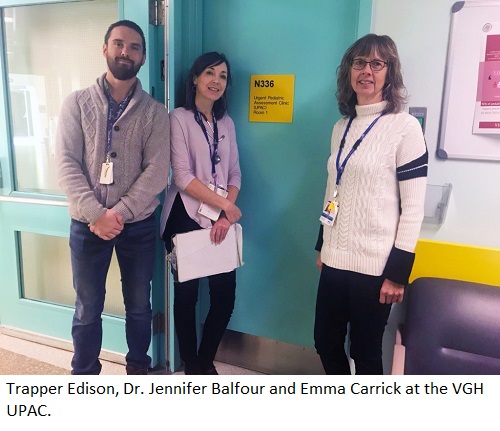 #medicalstaffofislandhealth