Posted on: March 17, 2021
As of Friday March 12, all 50 First Nations communities on Vancouver Island have received access to the COVID-19 vaccine. How the vaccine got there is a richly layered story, yet to be fully told, that Island Health and its partners can learn from for generations to come.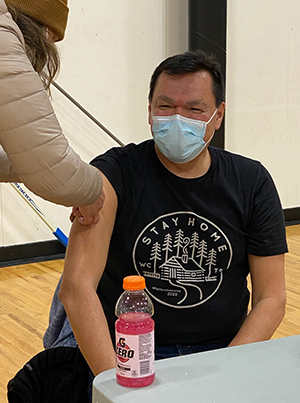 A member of the Halalt First Nation receives first dose of COVID-19 vaccine.' Image courtesy of FNHA​
According to Dr. Jeff Beselt and Brennan MacDonald (Regional Executive Director, Vancouver Island Region, First Nations Health Authority), co-leads for the COVID-19 pandemic response in Rural, Remote and Indigenous (RRI) communities, this has been one of the hardest things they've ever been involved with.
"As soon as this vaccine was approved in Canada we were working together around the clock through the holidays to roll out clinics in communities the following week," says MacDonald. "It's been incredibly challenging but we are finally starting to see some light at the end of the tunnel."
That hard work, commitment, and collaboration across communities and organizations is indeed paying off in profound ways. For example, more than 22 clinics in Indigenous communities were set up and made operational last week alone. And on March 10, for the first time since December, there were zero new COVID-19 cases reported for the day in RRI communities.
"Some of our first clusters were identified early in December when we were far more vaccine constrained and we didn't really know what we were doing," says Beselt. "Each community had its own unique challenges but through those we've learned a lot together. And now as new clusters have emerged, for example, we're able to lean on what we've been through together and respond quickly and efficiently." 
According to Dr. Charmaine Enns, Medical Health Officer for the North Island, who has worked arm-in-arm with MacDonald, Beselt and her counterpart Dr. Shannon Waters on the Rural, Remote and Indigenous response, the credit for any success belongs to First Nations communities themselves.  
"I just can't stress enough how impressed we have been with all of the communities," says Enns. "From the health directors to the nurses to the elected leaders, and all of the people in the communities, any success we've had really starts with all of those people. 
"They've so strongly advocated, and done so much to protect their members. And as soon as we've had the vaccine available, they've been ready to go. They just make it happen. It is amazing." 
Enns also marvels at the levels of care for each and every member of the community. And Central Island, Medical Health Officer Dr. Shannon Waters says this stems from traditional ways of knowing, being and caring that are a deeply ingrained part of Indigenous cultures.  
"Our knowledge and ways of being have really come into play throughout the pandemic and shown how resilient our people really are," says Waters, herself a member of the Stz'uminus First Nation with many family ties to Cowichan Tribes, both communities hit hard by the pandemic. "So many of our practices have elements of sharing and giving, and that is really what is happening here. People from everywhere have stepped up to help each other in a time of great need."
Waters adds that this level of resilience, interconnectedness and care for one another in dealing with the pandemic is something that every community and person in the province can learn and benefit from. 
"Indigenous communities on Vancouver Island have been leaders when it comes to preparing for and administering the COVID-19 vaccine," says Waters. "How we share and learn from this, not just by the numbers, but from the interconnected stories, that's what will last."
Through that spirit of openness, learning, collaboration and respect have come new efficiencies and ways of working to address the pandemic, all of which benefit the people affected. One recent example saw the identification of a new COVID-19 community cluster, the approval and deployment of the vaccine, the set up of a clinic, and needles in arms in less than 24 hours. 
"It's kind of unprecedented," says Beselt, who has been working closely with rural First Nations communities across British Columbia for decades. "Through those strong relationships that have been built in partnership with FNHA we've been able to accomplish incredible things. My gut tells me that those relationships should be strong and enduring and point to a different way of working together that is very, very positive." 
MacDonald agrees and says that patients are the ones who ultimately benefit most. 
"Our process has been community-led, which means that our communities are the decision makers in the design and delivery of the services in their territories," says MacDonald, herself a member of Cowichan Tribes, the largest single First Nations band in BC. "And as partners with communities, it was important for FNHA and Island Health to organize in a way that allowed us to move forward quickly and effectively. 
"That makes a real difference to the patient experience. And what I have heard from our communities is an expression of gratitude for this approach. For me that is real tangible change." 
MacDonald's hope is that those who've been drawn into work in Indigenous communities for the first time because of the pandemic, will have their practice permanently influenced going forward.  
"We've reached some new ground in our way of working through this pandemic and are continuing to demonstrate what is possible. For example, pooling our resources to support community clinics, where our nurses are working side-by-side, has been an opportunity for sharing, learning and relationship development. I look forward to continuing on this path."​