Although dozens of posters projects were presented at the Vancouver Island Quality Showcase earlier this year only one took home the "Winning Poster" award.
Dr. Kristen Attwell-Pope, Island Health's medical director of brain health, Dr. Andrew Penn, the director of the Stroke Rapid Assessment Unit Victoria, Ali de Wit, stroke nurse, John LeRoy, manager of the South Island Stroke Program, Melanie Penn, stroke nurse and Max Bibok, data analyst deserve congratulations for their winning "Reducing Stroke Burden on Vancouver Island" poster. 
"This poster was the result of many people collaborating to improve care for these sick patients. We have been carefully evaluating the care of every patient moving through our EVT program in order to streamline efficiency. When you care for these patients and see some of the amazing outcomes that we have had, motivation for change comes easily" said Dr. Attwell-Pope.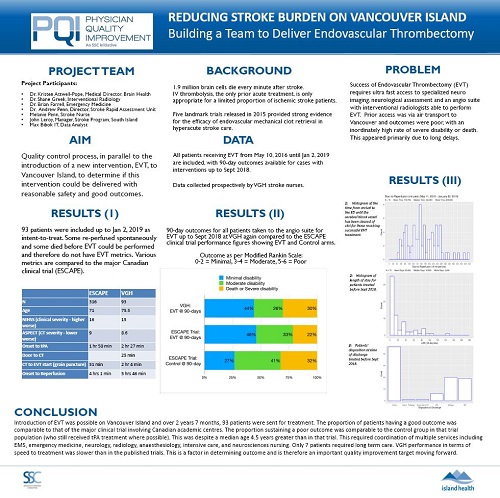 Six other posters were recognized with honourable mentions in two categories; improved clinical outcomes and process improvement projects.
The three honourable mention clinical outcomes posters are:
Step Up for the First Episode of Psychosis: Standardizing Treatment "a major accomplishment having psychiatrists agree on a standardized process" – Dr. Dan Boston
Emergency Room Opioid Substitution Therapy. "Changing an entire physician mindset on the scope of their specialty" – Dr. Jason Wale
Use of an O2 Histogram Tool and Guideline for O2 Administration in the NICU. "Hypoxia and hyperoxia in neonates can have devastating lifelong consequences. Great effort to tackle a potentially catastrophic problem - Shannon Cross
And the three honourable mention process improvement posters are:
Changing Practice to Support Access to On-Time Immunization. "Small practice change with significant results" -

Catharine Berghuis, Ashley Birtwistle, Kathy Easton

Defining Nursing Capacity. "Community Health Services study to measure the adequacy of human resources to meet the clinical care needs in the community" - Donna Jouantapp
Program Planning and Evaluation of an Antimicrobial Stewardship Program. "'getting a handle on a looming health-care catastrophe" Jolanta Piszczek et al.
Congratulations to the winning poster team and all the honourable mention teams and thank you for sharing your work!
Reminder: the BC Patient Safety & Quality Council is accepting submissions for Quality Forum 2020 until September 6, click here for more info.