SENT TO ALL STAFF, MEDICAL STAFF, STUDENTS AND VOLUNTEERS ON BEHALF OF KATHY MACNEIL, PRESIDENT & CEO AND DR. RICHARD STANWICK, CHIEF MEDICAL HEALTH OFFICER
---
We want to start by acknowledging the impact each of us are feeling in the loss of normalcy in our day-to-day lives. Our world has changed in the past weeks and with each new report and update, it can feel like this will last forever. Today Isobel MacKenzie, BC Seniors Advocate, shared an important message that echoes what we often hear from Dr. Bonnie Henry. "It's not forever, it's for now." This is something each of us has to hold onto as we continue to lean into this important work.
Child Care for Health Care Workers
We have an urgent and important request of any members of the Island Health family who have children at home and are concerned about finding child care, so that you can continue to care for others. The Ministry of Education and Ministry of Children and Family Development are working closely together to meet the child care needs of essential workers like you.
Today they asked health authorities to request all staff and medical staff who have child care needs to submit information to them by the end of day tomorrow (Friday, March 27).
We know this is a very quick turnaround, and not everyone who needs this information will see it right away – so if you know if a colleague who is on days off or doesn't check their email or the intranet regularly, please spread the word! 
****WORKS BEST WHEN OPENED IN CHROME****

(use password childcare to open it)

Please email directly to educ.covid@gov.bc.ca.
Provincial Update
Provincial Health Officer Dr. Bonnie Henry and Health Minister Adrian Dix announced in their briefing today the total number of confirmed COVID-19 cases in Island Health has risen to 52, up five since yesterday. Across BC, there are now 725 cases confirmed, up 66 from yesterday. A total of 66 confirmed cases are hospitalized across BC with 26 individuals in intensive care. 
Dr. Henry also explained new prescriber guidelines for substance use to enable safe supply and comply with public health advice around isolation. Minster of Mental Health and Addictions Judy Darcy elaborated in this release outlining new clinical guidance to reduce risk for people during dual health emergencies. If you support Island Health mental health and substance use clients please take an opportunity to familiarize with the information linked above.
In addition, she confirmed the order for those working in the long-term care sector to work in only one facility. We know individuals may work across more than one facility. As we see in the Lower Mainland, movement across sites increases risk of COVID-19 transmission. We have a responsibility to reduce this risk and we're taking action. Island Health is expediting work to implement the Provincial Health Officer's direction at our facilities and with our affiliate providers. For those impacted by this decision, you will hear more in the next few days about the decision and how it may impact your work if you haven't heard already.
For more information on today's briefing read Dr. Henry and Minister Dix's official statement. The full transcript of their news conference will be on our COVID 'what's new' page tomorrow.  
This morning, Premier John Horgan and Minister of Public Safety and Solicitor General Mike Farnworth announced a number of measures the province is taking to keep B.C. safe, maintain essential goods and services and support the response to COVID-19. This includes specific measures to protect the supply chain, protect consumers, enforce the provincial health officer's orders, protect vulnerable populations, and coordinate response efforts. For more information, please read the news release here.
This afternoon, Minster Dix and B.C.'s Seniors Advocate Isobel MacKenzie announced support for seniors living in community by improving seniors' supports at the community level. The province is expanding funding to BC 211 and building on the incredible outpouring of community support been seen in communities across the province. This service will match seniors who need assistance with those who can provide it in addition to expanding the Better at Home program.
We have a number of volunteers who we asked to step back from their roles at Island Health to protect their health and the health of those they support. It is great to see this opportunity for our invaluable volunteers, and others, to direct their efforts to support our communities virtually. For more information, please read the news release here.
Personal Protective Equipment (PPE) for health care workers
Today, Minister Dix spoke to the international demand for PPE and government's focus on ensuring we are protecting health-care workers. This includes enhancing, preserving and sourcing personal protective equipment. As our experience with the COVID-19 evolves, we are learning and understanding more about the processes and procedures regarding the use of PPE in care interactions. We are continuing our discussions with the Ministry of Health as we noted earlier today. We will share with you any new direction as soon as it is available.
Please continue to use current PPE standards and these guidelines until then.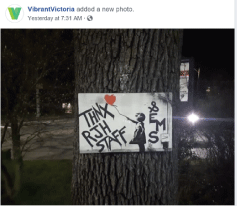 Conclusion
In closing, we want to highlight more of the health care heroes' stories circulating on social media and in the news. These stories highlight the work of each and every person who delivers or supports care. Continue to celebrate and support each other. Continue to reach out to your families and communities. 
Go home after your shift and check in with your neighbours, your friends and families. Start a phone tree, a group message or a Facebook group and think about the ways you can keep in touch with one another. We will get through this together. Be strong and celebrate the strength we have together – even in this time when we need to be physically apart.
With appreciation,
~ Kathy and Richard
---
Staying informed:
Visit Island Health's 'source of truth,' COVID-19 WEB PAGE on the Intranet. Transcripts or recordings of the Town Halls will be posted after each event.
The Medical Staff website has specific information for medical staff.
We are also posting information for the public on our social media channels. We encourage you to follow/retweet/share BCCDC's and Island Health's posts.