SENT TO ALL STAFF, MEDICAL STAFF, STUDENTS AND VOLUNTEERS ON BEHALF OF KATHY MACNEIL, PRESIDENT & CEO AND DR. RICHARD STANWICK, CHIEF MEDICAL HEALTH OFFICER
---
Like health-care professionals around the world, the Island Health family is facing an enormous challenge with COVID-19. However, we are facing this challenge together, and we must continue to do so. The safety of our health-care teams is of the utmost importance. Without you, we won't be able to provide high-quality care through these challenging times – supporting our response to COVID-19 and continuing to deliver the services in our communities that we provide each and every day.
To keep our teams – and our patients, clients, and residents – safe we need to ensure we have a reliable supply of personal protective equipment (PPE). Provincial Health Officer Dr. Bonnie Henry spoke at length in today's briefing about the challenge BC is facing making sure we continue to have a strong supply. She noted the past week has seen a dramatic increase in use, as there are more people with COVID-19 in hospital. "We understand the absolute need to keep people safe. But, the burn rate is much higher than we would have expected, and we are putting in place measures now to try and control that and be more efficient and effective in how we're using PPE," she said.
Part of the increased PPE utilization is a result of meeting the evidence-informed standards to support care at this time. We are also aware that some of the increased utilization is a result of individual concern for safety, but not in alignment with the evidence-informed standards. Our ask of you is to ensure you are aware of the standards in place and use PPE in alignment with the standards. Anxiety is created when others feel at risk of not having the equipment they need to keep themselves and their patients, clients and residents safe in alignment with standards.
We are taking steps to increase our PPE supplies, more stringently monitor and secure the distribution of PPE supplies, and preserve existing supplies longer. Our goal is to ensure you have the right protective equipment when and where you need it to do you job effectively and safely. We have more supplies on order and will continue to do everything in our power to ensure we are equipped to meet this challenge as the pandemic evolves. Watch for more information about PPE allocation in the days ahead.
PROVINCIAL UPDATE
During her briefing today, Dr. Henry reported there are 42 new confirmed cases, for a total of 659 in BC right now. This includes a total of 47 in Island Health, up three from yesterday's briefing. On the positive side, 183 people have fully recovered from COVID-19 in BC.
Dr. Henry noted the fragility of our long-term care facilities, and the risk to the residents in long-term care. Very strong measures have been put into place to protect elders and seniors in long-term care homes around the province. Constant vigilance by all of us is required to protect this population.
Dr. Henry also reminded all British Columbians again about the importance of social distancing. "This is not an order of convenience, but a requirement to protect everyone in our province—especially our elders and those most vulnerable to severe illness – from COVID-19," noted Henry. She added that community connection is very important during this challenging time, but it must be done safely, either virtually or with physical distance. In person celebrations and ceremonies need to be postponed.
You can read today's Statement from Provincial Health Officer Dr. Bonnie Henry, and the transcript of the news conference.
In other provincial news, in order to support people and prevent the spread of COVID-19, the Province is introducing a new temporary rental supplement, halting evictions and freezing rents, among other actions. Read more.
TAKING CARE OF THE MOST VULNERABLE
Many of you have been sharing your concerns about our underserved patients, clients and residents during this pandemic. Island Health is working closely with the Province of BC and local governments to respond to the specific health and housing needs of this group of citizens. We have a dedicated team working on these issues, whose focus includes:
citizens who are unstably housed including homeless, those accessing shelters and low barrier housing;

citizens accessing 'clustered' community resources (shelters, food banks) to obtain necessities of life;

citizens with severe, chronic and persistent mental illness and/or substance use (including youth and seniors);

citizens not engaged with and/or receiving services through other service structures which may leave them vulnerable due to unmet determinants of health;

new immigrants and refugees; and

in-patient psychogeriatric individuals.
In the coming days, additional materials for our underserved populations work-stream will be available on the COVID-19 WEB PAGE including protocols, tools, and information bulletins. There will also be similar information made available via the public website.
CONCLUSION
Just because we can't meet in person, doesn't mean we can't show our appreciation. Check out these hearts of support taped up at the NRGH dialysis unit staff room. Moments like this bring positive thoughts to minds and smiles to faces. We can all use more of this these days. As patients continue to show us their love and appreciation, let's make sure we also take the time to do the same for each other.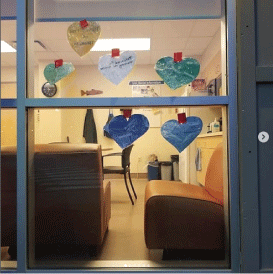 Keep up the amazing work and keep appreciating each other.
With appreciation,
~ Kathy and Richard
---
Staying informed:
Visit Island Health's

'source of truth

,

'

COVID-19 WEB PAGE

on the Intranet.

Transcripts or recordings of the Town Halls will be posted after each event.

The

Medical Staff website

has specific information for medical staff.

We are also posting information for the public on our social media channels. We encourage you to follow/retweet/share BCCDC's and Island Health's posts.
Twitter • Facebook • Instagram