SENT TO ALL STAFF, MEDICAL STAFF, STUDENTS AND VOLUNTEERS ON BEHALF OF OF KATHY MACNEIL, PRESIDENT & CEO, AND DR. RICHARD STANWICK, VP POPULATION HEALTH & CHIEF MEDICAL HEALTH OFFICER
---
The tone, content and volume of the questions submitted to yesterday's Town Hall clearly demonstrates that you are feeling the pressure of the increase of COVID-19 across Island Health. With cases in long-term care, hospitals and schools, there is no denying that COVID is on the upswing. I want to reassure you: we are ready.
I want to remind you how much we have learned through the first wave of COVID, and from the experience of other jurisdictions. Our COVID Intranet page remains the source of truth, and continues to evolve to ensure you can find the information you need, when you need it. We've just added a new section with information for Island Health staff and medical staff on health care outbreaks.
Dr. Ben Williams provided an excellent overview during the town hall about the actions we all can and should be taking, at work and in the community, to protect ourselves, our families, friends and neighbours. You can read more here.
This storm of COVID is impacting each of us slightly differently, so please be mindful of the fact that we may be in different boats in this storm. If you are feeling overwhelmed, there are resources to help. You can find resources for staying emotionally and mentally well here.
Calmly follow the processes and procedures we've been practicing and planning over the past several months. We are ready to respond when we need to – and our job is to make sure we are keeping everyone as safe we as possibly can. Remember to be kind, be calm, and we will all be safe.
TEAM KUDOS
Congratulations to the Yates & Quadra Integrated Health Centre team for reaching their one year milestone with Island Health. The downtown Victoria core has limited access for primary walk-in clinic services. The team of physicians, medical office assistants, a registered nurse, office coordinator and dedicated cleaner continues to serve patients virtually and in-person seven days a week, through both the walk-in clinic and the longitudinal family physician practices.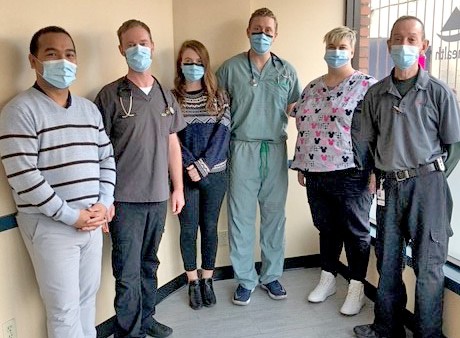 During the summer, the Yates & Quadra Integrated Health Centre was one of six designated low-risk "CAPE" clinics.
(Community Access Physical Exam Clinic), which was a coordinated effort with the South Island and Victoria Divisions of Family Practice. CAPE clinics provided opportunities for community family physicians who were performing primarily virtual care, to refer their patients who were low-risk for COVID-19 for necessary physical exams. ​Happy Anniversary! 
QUESTION OF THE DAY
It has been well documented that this virus is airborne. Why are we not wearing N95 masks?
Island Health is very concerned about the health and safety of our care team. Our PPE guidelines follow best practice and the current recommendations of the Chief Public Health Officer of Canada, the BC Provincial Health Officer and the Medical Director of the BCCDC.
Medical-grade masks provide excellent protection for the wearer, and others, during non-aerosolized medical procedures. N95s are available for those who are fit tested for AGMPs, and are to be used with people who are assessed to be a yellow or red COVID case or for other patients on airborne precautions. Read more about AGMPs and PPE requirements here.
PROVINCIAL UPDATE
Provincial Update (Today):
Island Health Update (Today):
Read updates from Dr. Bonnie Henry, Provincial Health Officer:
COVID-19 INTRANET PAGE UPDATES
Since our last update, the following resources have either been added or updated and posted on the COVID-19 Intranet page.
Changes
The AGMPs and PPE Requirements guide has been moved from the Clinical Care Subject to the PPE-AGMPs Subject. There were no changes to the document's content.
External
---
Stay informed: